Soccer.com Partners with Televisa, Univision Communications to Launch Official Licensed "El Chapulin Colorado" Clothing Line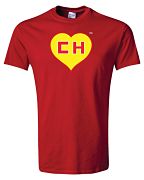 August 26, 2013 – Soccer.com, the biggest supplier of soccer apparel and equipment in the U.S., together with Televisa, the largest media company in the Spanish-speaking world, and Univision Communications Inc., the leading media company serving Hispanic America, have teamed up to launch a new clothing line inspired by the popular character "El Chapulin Colorado" (The Red Grasshopper).
Sold online for the first time in the United States, Soccer.com will offer an exclusive line of licensed clothing inspired by this immensely popular Hispanic icon, specifically for soccer fans. Available for purchase online at Univision.com, as well as on Soccer.com and TiendaFutbolMundial.com, this new collection will include over one hundred T-shirts inspired by "El Chapulin Colorado's" image and most famous catchphrases.
"We are looking forward to this partnership with Soccer.com," said Maca Rotter, executive director, Televisa Consumer Products. "'El Chapulin Colorado' is an icon of Hispanic culture, and we are thrilled to bring such a beloved character into the hearts and homes of Hispanics throughout the country."
"This product line with Soccer.com will build on the rich history of 'El Chapulin Colorado,' bringing to life the charm of 'El Chapulin Colorado' to generations of old and new fans online," said Francisco Arenas, vice president, Consumer Products, Univision Communications Inc.
"El Chapulin Colorado" was the starring character in the self-titled Mexican television series that ran for eight seasons from 1972 to 1981, and still airs today in the U.S. and many Latin American countries.