Sofia Vergara Joins Rooms To Go Family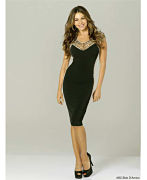 March 25, 2013 – Furniture retailer Rooms To Go announced that it has entered into a multi-year licensing agreement with Sofia Vergara. The Sofia Vergara Collection will launch in Rooms To Go showrooms during Fall 2013. It will initially be comprised of living rooms, bedrooms, dining rooms and accessories. True to the retailer's strategy, the Sofia Vergara Collection will be merchandised and displayed in complete room groupings designed to provide customers with inspiration, affordability and ease of shopping.
Named as one of the world's most powerful Latinas by Forbes Magazine, Sofia Vergara is both a successful businesswoman and the only Hispanic actress to begin her career on a U.S. Hispanic network and successfully cross over to the general market. She can currently be seen every week on ABC's twelve-time Emmy award-winning series, "Modern Family" and has starred in numerous films, including Tyler Perry's Madea Goes to Jail, Smurfs, and Happy Feet. Sofia has been nominated three times each for the Golden Globe, Emmy and Screen Actors Guild awards for her role in "Modern Family."
"I love beautiful furniture and am so excited to be working with Rooms To Go to create my own furniture collection," said Sofia Vergara. "My relationship with Rooms To Go began over 15 years ago when I moved to the United States as a single mother, and furnished my first apartment entirely from their store. I knew I could get high quality furniture that was both fashionable and affordable. I've purchased new room settings from Rooms To Go since then; however, some of the original pieces are still in my family. My collection will offer gorgeous contemporary designs with the same amazing quality and affordability I've always known from Rooms To Go."
Founded in 1991 by Jeffrey and Morty Seaman, Rooms To Go has successfully changed the way America shops for furniture by offering innovative store design, outstanding customer service, incredibly stylish and affordable furniture together with industry leading finance offers and fast delivery.
"We are thrilled to have Sofia Vergara join the Rooms To Go family," said Jeffrey Seaman, Chief Executive Officer of Rooms To Go. "She is a major star who truly strives to make a difference in the lives of many people. She's very interested in design and committed to working with us to market great products at extraordinary values. The combination of Sofia's style and our sourcing capabilities will result in a great collection. Her sense of helping people find beautiful things that are also affordable is a perfect fit for us. The fact that Sofia's been a Rooms To Go customer for over 15 years makes our partnership even more perfect."
In addition to her acting career, Sofia is a founding partner with Luis Balaguer of Latin World Entertainment, a 100 percent Hispanic-owned entertainment company serving the U.S. Hispanic market. "Rooms To Go is the perfect partner to extend the Sofia Vergara lifestyle brand into furniture," said Luis Balaguer, president and CEO of Latin World Entertainment. "Sofia wants women to feel good about the way they look and live. Together with Rooms To Go, Sofia will provide beautiful and affordable furniture and accessories which will help women create an inviting home environment for family and friends."