Twentieth Century Fox Consumer Products launches new eCommerce store: foxshop.com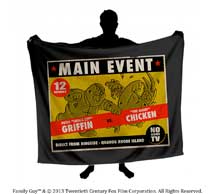 March 26, 2013 – Twentieth Century Fox Consumer Products today announced the launch of a new eCommerce initiative that offers a revamped and engaging user experience for consumers. In order to attract fans and offer merchandise indicative of the brands they love, Fox product will now be available in innovative, official brand-specific shops that will roll out over the course of the year. These shops will not only feature an on-demand product offering, but also licensed and seen-on merchandise authentic to each Fox property. To kick things off, fans of NEW GIRL, GLEE, AMERICAN DAD and FAMILY GUY can now purchase all-new merchandise, view show content, and interact with their favorite brands across various social media platforms on the shows' individual shopping hubs.
The revamped, fan-friendly eCommerce shops will offer an increased variety and stronger product offering for on-demand merchandise introducing categories like home goods, apparel, gym gear, pet apparel, and electronic accessories. The stores will also streamline consumer searches with product lines that allow consumers to find multiple products and licensed merchandise all in one shop.
In addition to fan-oriented merchandise, the official online shops will offer products that are reflective of what the characters from the popular Fox shows may wear or use. For example, in the New Girl shop, consumers can find kitchenware reflective of Jess, her personality, and her love for baking. Through an on-demand model, Fox is working to incorporate customizable merchandise where consumers can personalize their purchase, resulting in a one-of-a-kind creation that distinguishes it from any other licensed merchandise in the market.
"Our new ecommerce shops were developed with the intention of introducing a unique and innovative shopping experience to the fans of our television shows and films that will serve as an extension of our Fox brands," said Morgan Chess, Vice President of Digital Strategy & Commerce at Fox Consumer Products. "Visitors will be able to watch the properties they love and then visit our new shops to find product that is not only referential to the films or shows they watch, but also authentic to the characters they love."
The new online shops are engineered by MashOn Inc. and BLKBX Creative Group, who developed the creative elements for the new platform.
As the official shops roll out, they will be portable and will have the potential to reside on additional partner sites.
To visit the official shops, check out the following links:
foxshop.com
New Girl at Newgirlshop.com
Glee at Gleeshop.com
American Dad at Americandadshop.com
Family Guy at Familyguystore.com