New Edge Products – Edge Body Shave Cream And Edge Ultimate Shave Gels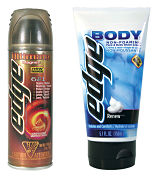 March 27, 2013 – Edge is changing the way men shave with the launch of Edge Body Shave Cream and Edge Ultimate Shave Gels. Known as the world's first-ever shave gel and the original anti-irritation agent, Edge shaving products are recognized for giving guys an edge in their grooming routines and in their lives. The brand's newest innovations are designed for the evolved grooming habits of the modern man, who cares about his skin, his body, and his individuality. Edge Body is the first men's shave cream designed specifically for the increasing trend of body grooming, and Edge Ultimate is a 6-in-1 shave gel designed for the modern man who wants to take care of his skin without spending extra time in front of the mirror.
"We know men's attitudes toward grooming are changing. Guys want to look their best, but they don't want to spend all day doing it or deal with skin irritation along the way," said Jeffrey C. Wolf, senior brand manager for Edge at Energizer Personal Care. "We created the Edge Body and Edge Ultimate products to help give men the opportunity to feel great and express their individual styles without sacrificing their skin or their time."
Studies show that one in five men remove hair from their body, and nearly two-thirds of men suffer from skin irritation and bumps after body shaving. Edge Body shave cream offers an advanced skin-protection solution for modern men's grooming needs, so they can look and feel their best from head to toe. It has antioxidants, vitamin E, and aloe, so skin below the neck is protected from razor burn and irritation. With a convenient non-foaming formula, Edge Body shave cream won't wash off in the shower, which is where men are most likely to body shave. It helps keep skin feeling smooth and comfortable with every shave, so men never have to choose between irritated skin and unwanted body hair. Edge Body shave cream is available in two refreshing formulations, Edge Renew and Edge Recharge.
Edge Ultimate shave gels are for the modern man who wants to look and feel great without needing to spend extra time at the sink. It provides six benefits in one easy step, as it soothes, moisturizes protects, cleanses, softens and leaves the skin smelling great, making it simple to get ready for the day or night ahead. This time-saving, 6-in-1 grooming and skincare product giving men a smooth, comfortable shave while reducing irritation. Edge Ultimate shave gels are available in three bold scents: Edge Ultimate Achiever, Edge Ultimate Contender and Edge Ultimate Magnet.
Starting March 2013, Edge Body Shave Cream and Edge Ultimate Shave Gels will be available at food, drug and mass stores nationwide.