Space Enterprises appoints The Joester Loria Group as North American licensing agent for The Hive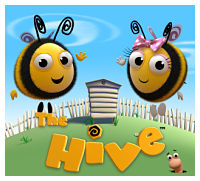 Jan. 15, 2013 – Space Enterprises, leading merchandising and licensing agents for a range of exceptional properties in the UK, has appointed The Joester Loria Group as the exclusive licensing agent for The Hive in North America. The Joester Loria Group, a full-service licensing and marketing agency recognized for its strategic brand-building , will develop a retail driven licensing program designed to connect with the growing number of fans for the hit pre-school television series airing on Disney Junior.
Originating in the UK, produced by Monumental Productions, Lupus Films, and DQ Entertainment, The Hive is a popular 26 x half hour series that has been a ratings success internationally where it is now seen in more than 150 countries. The Hive buzzed into US households in October 2012, in a deal secured by the shows distributor Bejuba! A colorful and engaging kids TV series in beautiful CGI animation, The Hive follows the fortunes of Buzzbee and his many friends in their fun-packed adventures in the Hive. Storylines in each episode explore themes such as working together to solve problems, being part of a diverse community and valuing family and friendships.
"We are very pleased to have The Joester Loria Group as our partners in the US. They came highly recommended – so it was good to find out that they shared our passion and vision for The Hive," said Steve O`Pray CEO of Space Enterprises. "Every territory has reacted to the show's charm, and clearly the same has happened in the US since the launch."
"The Hive is a beautiful pre-school series that has found a loyal audience in the US and around the world," said Debra Joester, President of The Joester Loria Group. "We look forward to extending The Hive's UK licensing success to the US with equally lovely product supported with dynamic retail initiatives."