SPLASH! on Fragrance To Showcase Innovative Perfumes And Scented Products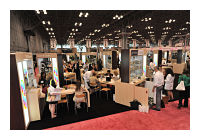 Dec. 6, 2012 – The fragrance and scent business is on an upswing, with this worldwide $35 billion dollar industry expected to post increased year end sales and exciting new product and category launches. To spotlight these innovations, HBA Global will launch a SPLASH! on Fragrance Pavilion at its industry leading event, June 18-20, 2013, at the Jacob K. Javits Convention Center in New York.
This curated area on the exhibit floor will feature the latest finished goods in the fragrance market including perfumes, colognes, aromatherapy products, and home scents. Fragrance-related offerings such as candles, scent diffusers, fragrance oils, personal care products, and other product offerings using scent in innovative ways will also be considered.
"The new HBA SPLASH! on Fragrance Pavilion is an exciting opportunity for new brands to gain exposure and reach a wide audience in one central location. Fragrance and fragrance delivery are such integral aspects of our products and at times may be overlooked. This event puts fragrance in the forefront," said Amy Marks-McGee, Founder, Trendincite LLC and jury member of SPLASH! on Fragrance.
Participation in SPLASH! on Fragrance is limited and acceptance is based on jury review. The jury will include press, bloggers, retailers, brand experts and entrepreneurs who have demonstrated a passion and commitment to mentoring and supporting independent and emergent talent within the fragrance industry. Fragrance and scented products eligible to apply to this pavilion for testing and review by the jury include products with no more than two years in distribution (U.S. or international), have an interesting development story, and demonstrate unique product or packaging characteristics.
"With positive market growth, and a resurgence in innovation, this is an exciting time for fragrance development," said Jill Birkett, Brand Director, Beauty & Wellness, HBA Global. "Our audience will benefit from getting such intimate access to these brands that are emerging on the market. SPLASH! on Fragrance will allow them to meet the fragrance creators and get a closer look at the important package design and unique delivery systems."