ThinkGeek Sets the Gold Standard for Star Trek Pizza Cutters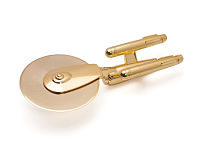 Dec. 6, 2012 – ThinkGeek, the creators of the original Star Trek U.S.S. Enterprise Pizza Cutter, has launched a limited edition run of 1,701 Golden Enterprise Pizza Cutters crafted in 24k gold.
Modeled after the venerable original U.S.S. Enterprise NCC-1701 from Star Trek, the Golden Star Trek Pizza Cutter is limited to 1,701 units and each will feature a unique number laser etched onto the blade. Under license by CBS Consumer Products, this collectible is the perfect item to beam into any true Star Trek fan's kitchen or another place of honor within their quarters.
"The Golden Limited Edition Star Trek Pizza Cutter is a beautifully made collector's piece for Star Trek fans," states Captain Ty Liotta of the USS-GeekLabs, ThinkGeek's Research and Development flagship. "ThinkGeek is proud to work with CBS Consumer Products and Star Trek to create this unique piece of memorabilia."
The Golden Limited Edition Star Trek Pizza Cutter joins an exclusive collection of Star Trek merchandise created and sold by ThinkGeek that includes the Bat'leth Letter Opener, Inflatable Captain's Chair for children and adults and Electronic Door Chime.