Sports Licensing and Tailgate Show Preview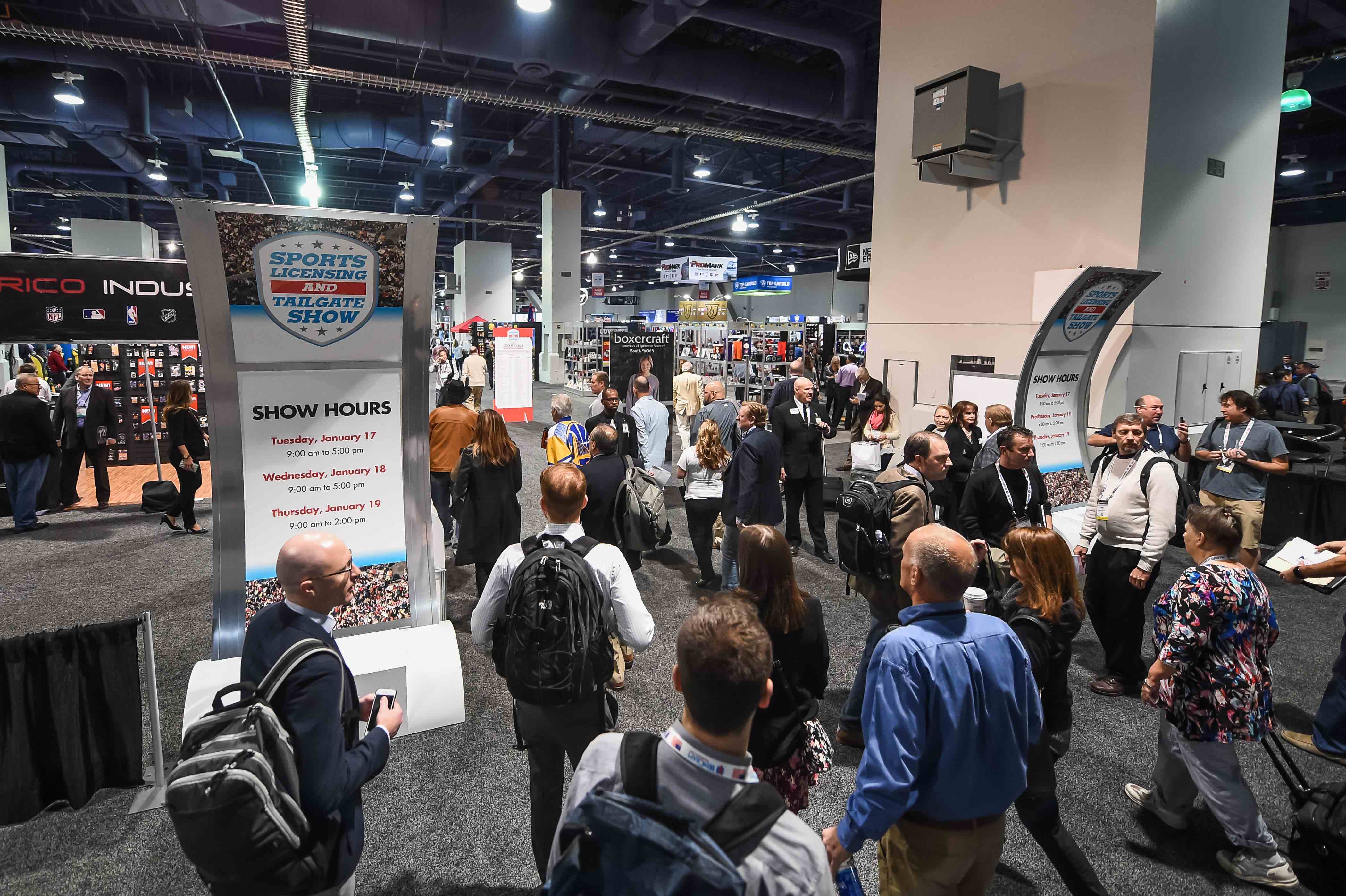 More than 2,000 attendees will gather Jan. 23-25 in Las Vegas. By Nikki Puckett
The 12th annual Sports Licensing and Tailgate Show takes place Jan. 23-25, 2018, at the Las Vegas Convention Center. This year's show is expected to be the largest to date, and will feature an expanded educational program for retailers and be co-located for the first time with the ICLA Winter Symposium.
Products for Every Fan
More than 2,000 qualified retailers and universities are expected to be in attendance. Attendees represent stores of all sizes and range from specialty shops to department stores to mass-market retailers. The vast array of product categories on display from exhibitors make the show appealing to a variety of retailers.
Approximately 400 companies will exhibit, showing off the latest fan gear to expand the product offerings of retailers. Exhibiting licensees represent all professional and collegiate leagues and teams, and will showcase merchandise in every possible product category from toys and games to apparel, pet products and more. Licensors and agents that participate include IMG College Licensing, Learfield Licensing Partners, NASCAR, Fermata Partners, NHL, and the NBA and NFL Players Associations.
More than 70 new exhibitors have already signed up. First time exhibitors include: Alex and Ani, All Star Dogs, Badger Sportswear, Branded Custom Sportswear Inc./Nike, C&I Collectables, Campus Crew, Catstudio Inc., Charles River Apparel, CI Sport, Coopersburg Sports, Covo Drinkware, Dependable Solutions, DGL Group LTD, Epicurean Cutting Surfaces, Fan Brander, Gracious Living Corp, Greeting Pen Company, Groove Life, Hex Head Art, Hype & Vice, J.F. Sports Canada, College Wallets- College Coolerz, Jardine Associates, Jerzee Art, Kotis Design, Landway, Lauren James, Let's Light It Up, Lokai Holdings, Nap Cap, Neil Enterprises and NEU Retail.
Additional first-time exhibitors include Nuboard Media, Otter Products, Ouray Sportswear/Holloway, Outugo Inc, Pennington and Bailes, Potter Manufacturing Co, Profile Ent., PROUD Athletics, 2Undr, Score! Designs LLC, Signature Announcements, Simple Modern, Sparta 2002 Designs & Promotions, Spirit Products Ltd, Sports Coverage Inc., Stahls, Strand Art Co, SWEN Products Inc., Tailgater Plates, Tailgating Specialties, Teamwork Athletic Apparel, The Life is Good Company, Timex, Tradition Ever Since, Tribal Inflatable Standup Paddleboards, U.S. Digital Media, University Frames Inc., Vive Le Fete Collegiate, WNA Inc. and Zags LLC.
Expanded Education for Retailers
A new lineup of educational sessions is in the works, with help from the International Licensing Merchandisers' Association (LIMA), the Independent College Bookstore Association (ICBA) and The Mann Group. LIMA will present trends in the licensing industry for 2018 and beyond, based on its industry survey data.
The Mann Group and ICBA will focus on topics relevant to all types of retailers, including developing healthy supplier partnerships and strategies for assortment planning. All of these sessions are free to registered attendees and are designed to give retailers the tools they need to efficiently and effectively grow their businesses.
The educational program kicks off with the 2nd Annual Industry Breakfast and Keynote Speaker. The Industry Breakfast was introduced in 2017 when University of Alabama Athletic Director Bill Battle delivered the show's first keynote address to a full room. The 2018 Industry Keynote and Breakfast is open to all attendees and exhibitors and will take place on Tuesday, Jan. 23. The keynote speaker will be announced in the coming weeks.
In addition to the SLTS sessions, the International Collegiate Licensing Association (ICLA) will host its Winter Symposium in the days leading up to the show. The ICLA Winter Symposium will consist of two days of educational programming and networking opportunities. Separate registration is required to attend the Winter Symposium. Visit nacda.com for more information.
Money Back on Purchases
The License To Buy Show Specials Program will be back in 2018. A favorite among exhibitors and retailers, this exclusive rebate program gives buyers money back on orders they are already placing at the show. Retail buyers are rewarded based on the number and dollar amount of orders placed with participating exhibitors. Last year more than $3.9 million in orders were written across the three-day show with 98 participating exhibitors. The show gave back nearly $70,000 in rebates to buyers.
Other show highlights include The Opening Night Party and the New Product Zone. The Opening Night Party is the official gathering of all attendees and exhibitors for food, drink and networking. The party will convene Jan. 23 in the Sports Lounge. The New Product Zone is a special display area that lets buyers preview exhibitors' latest products before they even enter the show floor.
Qualified buyers can register for just $60 prior to Jan. 22. Visit www.SportsTailgateShow.com for more information or to register.