Star Wars By Stride Rite Trilogy of the Lights Collection Offers Unique Light-up Technology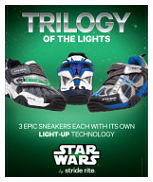 Feb. 14, 2013 – Stride Rite, the leader in premium children's footwear, today announced the introduction of its Star Wars by Stride Rite Trilogy of the Lights, an epic collection of sneakers with unique light-up technology only available through the innovation of Stride Rite. The collection features three sneaker styles inspired by Star Wars characters and lore, each with its own unique light-up technology. The Star Wars by Stride Rite Trilogy of the Lights campaign is illustrated in two fifteen-second commercials airing in February on Cartoon Network and Disney XD. The imagination-inspired commercials show mini-Jedi Knights gliding into their Star Wars shoes and transporting themselves into the never-ending battle between the light and dark side of the Force.
The Morphing Lightsaber sneaker features Push to Change light-up technology and puts the power of choosing either the light or the dark side of the Force. The lightsaber on the front of the shoe, which lights up with every step, will change from Yoda green to Sith red with the simple push of a button.
The Jedi to Sith sneaker with Shadow Lights technology represents the ultimate battle between both sides of the Force through the transformation of Anakin Skywalker to Darth Vader. This shoe features first-of-its-kind Light & Dark Sensor Technology that flashes blue in the brightness of day, and glows red in the shadows of darkness.
Star Wars fans can channel their inner clone trooper into the Clone Captain Rex 2.0 sneaker with Revealers Light-up technology. When you step, the shoe closure, looking like a clone trooper helmet, flickers blue light to reveal Clone Captain Rex's silhouette.
"Star Wars younglings are sure to love these new shoes that will bring these exciting characters and the Star Wars story to life. At Stride Rite, we strive to offer designs and technology that inspire children's imagination and encourages them to play," said Sharon John, president of Stride Rite Children's Group. "That's why we are so proud to be offering Star Wars-inspired footwear for children. We know how beloved these characters and stories are, and are excited to bring them to life through our shoes."