Stride Rite Unveils New Store in Columbus, OH with Milestone Design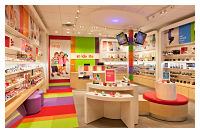 June 27, 2013 – Stride Rite Children's Group announced the opening of its newest retail store at Easton Town Center in Columbus, OH on June 19. This marks the latest opening since the launch of the new store design called "Milestone" premiered in Burlington, MA in March 2012, and is part of the brand's commitment to providing the best shoe-shopping experience for kids and families.
Some highlights of the new Stride Rite store include:
The interior is clean, modern, and bright with extensive use of white mixed with splashes of color
The shelves are at varying heights so children can easily see all of the styles available
A dedicated Fit Station where children can get their feet measured by a Stride Rite Fit Expert and find out how tall they are by standing against the Fit Totem Pole
Rainbow carpeting that mirrors the colors in Stride Rite's logo
A more open store plan so kids and strollers can move more freely
The new Stride Rite store in Easton Town Center offers a wide assortment of Stride Rite shoes that are beautifully crafted using key textiles and designer details coupled with superb quality and the excellent service that families rely on. The store will open in a brand new kid-centric section of Easton Town Center, one of the highest performing outdoor lifestyle centers in the country.
"We are excited to continue exploring new potential store locations that both fit the needs of our customer and help our busy Mom by providing more convenience and access to the brands and styles that both her kids love and she trusts," said Stephen Donnelly, SVP/GM Direct-to-Consumer at Stride Rite Children's Group. "This has been an exciting year for us, between unveiling the new store designs and being named by Footwear Distributors and Retailers of America as the top performer in the full service category."
Stride Rite has confirmed plans for three additional specialty stores to open Fall 2013 in Augusta, GA, Houston, TX and Columbia, MD.