Poppin Partners with Staples to Reimagine the Office Products Shopping Experience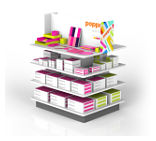 June 27, 2013 – Poppin announced today that Staples will be the first U.S. retailer of its fashionable yet affordable work-lifestyle products. Previously available exclusively on poppin.com, Poppin products are immediately available on Staples.com and in a select number of Staples stores.
For its first in-store presence, Poppin has designed an original cross-category experience that brings together everyday work essentials into customized fixtures that visualize the perfectly accessorized desktop. Each standalone fixture features four Poppin colors and there are two fixtures per store thus bringing eight colorful options to Staples' guests.
"Staples is very excited to bring Poppin's expansive collection of products to our customers online and in select stores," said Mike Edwards, Executive Vice President, Merchandising at Staples. "Together we have created a truly special shopping experience designed to assist customers in coordinating their ideal workspace."
Poppin's assortment of desktop accessories will be displayed together and organized by color. The clean white fixtures feature a minimalist aesthetic and open shelving devised to exhibit the brand's vibrant color palette. The product is merchandised on each level by color while the uppermost display showcases a number of ways in which customers can design their workspaces with Poppin products.
Launched in September, Poppin has designed and manufactured an expansive collection of workplace essentials that range from desktop basics to a furniture line. Unlike traditional office products companies which "go deep" in one or two categories, Poppin creates products that "go wide" across all major categories so the items can be coordinated in design and color. Most items in the collection are available in Poppin's ten signature colors or fashionable prints thus allowing consumers and businesses to extend their personal style or corporate brand to their workspaces.
"By partnering with the industry leader, we are able to introduce Poppin to millions nationwide who are looking to inject design and color into their workspaces – whether at home or in a corporate office," explained Randy Nicolau, Poppin's Chief Executive Officer. "We have constructed a shopping experience that makes it easy for customers to coordinate their stapler with their tape dispenser, notebooks and organization products to truly customize their own space."