Suave Professionals, Nicole Richie Partner to Unlock Secrets Behind NBC's "Fashion Star"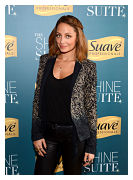 Feb. 26, 2013 – The tips, tricks, and must-know tidbits of the beauty and fashion world aren't always accessible to everyone, but Suave Professionals believes they should be. That's why the brand has once again teamed up with designer, mentor and style icon Nicole Richie and is sponsoring NBC's "Fashion Star" for the second year in a row. Together, Nicole and Suave Professionals are pulling back the curtain to unlock behind-the-scenes style and beauty secrets from the hit show and sharing them in the new Suave Shine Suite on Suave.com, a robust digital destination where guests can access the latest trends and enter for a chance to win prizes.
"For over 70 years, Suave has focused on making beauty accessible to all women and we are continuing that commitment with the introduction of our new digital destination – the Suave Shine Suite. This robust hub containing insider tips from industry experts and behind-the-scenes access from 'Fashion Star' Season 2 will make the latest beauty and style secrets available to everyone – especially when it comes to achieving gorgeous hair," said David Rubin, Unilever Vice President Marketing Hair, U.S. "Our continued relationship with the hit show 'Fashion Star' celebrates exceptional trendsetting talent and spotlights the integral role Suave Professionals-styled hair plays in creating the overall look."
Among the exclusive content featured in the Suave Shine Suite is a new webisode series hosted by "Fashion Star" Season 1 fan favorite Orly Shani titled, "Unexpected Insider." Each week, Shani will bring viewers exclusive interviews and features with designers, trendsetters, and industry influencers, including Richie and Suave Professionals Celebrity Stylist Theodore Leaf.
Consumers can register for a free sample (while supplies last) of NEW Suave Professionals Moroccan Infusion products and enter for a chance to win one of many prizes during their visit to the Suave Shine Suite on Suave.com. Participants receive a free spin on the instant win wheel for chances to snag gift cards, accessories from Nicole Richie's House of Harlow line, hair tools and more. During the Weekly Giveaway, items such as spa getaways, gift cards, and tablets will be given away – all leading up to the Grand Prize giveaway of $100,000.