UberConference Announces Google Apps Reseller Program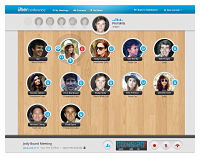 Feb. 26, 2013 – Firespotter Labs today announced the UberConference Google Apps Reseller Program. UberConference is a next generation audio conferencing service with a unique, visual interface. UberConference's new channel partner program will be launching with Premier Enterprise Google Apps resellers SADA Systems, Dito, Sheepdog, LTech and Agosto as its principal partners.
"Partnering with these world class resellers to drive end user adoption was an easy choice," said Craig Walker, CEO and co-founder of Firespotter Labs. "They have a unique combination of qualities – excellent reputations, a strong customer focus, leadership that demonstrates vision, and deep market penetration. Our launch resellers lead by example as the drivers of cloud-based services adoption and we are thrilled to be working with them."
With its unique, visual interface, UberConference shows participants who's on a call and who's speaking at any given moment, and gives all participants access to every other participant's Google+, LinkedIn, Twitter, and Facebook public social profiles. Features such as recording, dialing out to participants and earmuffs, which allow for sidebar conversations, as well as file sharing through Evernote, are easy-to-use. UberConference continues to introduce features that help businesses be more productive at significantly lower cost, and is investing resources in spreading the word through this reseller channel.
"At SADA Systems, we pride ourselves on bringing innovative cloud based solutions to our current and prospective customers," said Tony Safoian, president and CEO of SADA Systems. "We are delighted to be partnering with UberConference as their offering fits our profile perfectly."
Since its beta launch in May 2012, UberConference has significantly expanded its offerings, rolling out its premium service (UberConference Pro), and its enterprise product (UberConference Business), as well as mobile apps available for both iPhone and Android. With the launch of the reseller program, UberConference will increase its ability to engage enterprise customers and to deliver a much-needed conference calling cloud solution for Google Apps customers.