Suja Elements Non-GMO Cold-Pressed Smoothies Now Available Exclusively in Whole Foods Markets Nationwide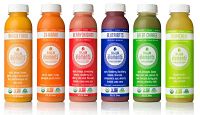 Sept. 24, 2013 – Suja Co., known for its fresh fruit and vegetable juices and premium cleanses, is extending to the fresh smoothie category with the introduction of Suja Elements. Co-developed and sold exclusively in Whole Foods Markets nationwide starting today, consumers can experience this new line of non-GMO organic smoothies from the leader in cold-pressed High Pressure Processing (HPP) beverages. Using cold-pressed organic juice as a base, Suja Elements also incorporates blended fruits and some of the world's best superfoods like camu camu, bao bab, and chia. And unlike all of the other smoothies on sale at the store, this drink is not heat pasteurized. Each of the six fresh smoothies offers vital nutrients and refreshing taste with no added flavors, colors or preservatives.
Suja has added an important social aspect to the new Suja Elements line, donating 20 cents for every bottle sold to non-profits that are a part of the Suja Elements Cause Collective, including Whole Kids Foundation, Whole Planet Foundation, Teens Turning Green, Citizens for GMO Labeling, New Eyes, and International Rescue Committee. The company's goal is to raise $1 million annually on behalf of the Elements Cause Collective.
"Suja Elements has taken high quality, purpose driven products to a new level of excellence. This exclusive line of refreshing organic and non-GMO fresh pressed smoothies was developed in partnership with Whole Foods Market's grocery team and each item donates a percentage of sales to a worthy cause. This new line is a great example of what we stand for and we are excited to be offering it to our customers," said Errol Schweizer, Executive Global Grocery Coordinator for Whole Foods Market.
Six Suja Elements flavors, USDA Organic and Verified Non-GMO by the Non-GMO Project, will be rolled out nationwide exclusively to Whole Foods Market this week.
"Suja Elements smoothies offer everyday refreshment for the greater good all at a retail price point that is more accessible to a broader audience. This gets us one step closer to having cold-pressed High Pressure Processed (HPP) juice in the hands of every consumer," said Jeff Church, Co–Founder and CEO of Suja Juice.