SustainU Launches Wear One, Share One Program to Encourage Dialogue on Sustainable Clothing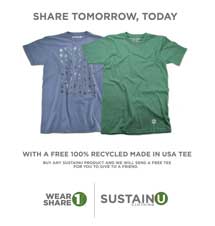 April 24, 2013 – SustainU, a leading producer of apparel using fabrics made from 100% recycled materials that are manufactured in the USA, today announced the beginning of its Wear 1 | Share 1 Program where online customers can receive a free 100% recycled T-shirt to give to a friend with each SustainU purchase. SustainU looks to use generosity as a way to spread the message of environmental and social sustainability.
"The social, environmental and economic impact of clothing is immense," said Chris Yura, CEO and founder of SustainU. "We want to stimulate the national conversation around finding more sustainable solutions for apparel and we think that nothing speaks louder than a gift from a friend."
To encourage this dialogue, SustainU is offering online customers the opportunity to give a free T-shirt to someone they know with the purchase of a regularly priced item.
"American-made clothing supports U.S. textile and apparel manufacturing which has lost over 1 million jobs to outsourcing. Using recycled material saves water, petroleum and CO2 emissions. Buying locally made clothing is great for the future of our economy," Yura continued. "SustainU wants to help everyone share the values of sustainable clothing with friends and family because our future depends what we do today. These are things we need to be talking about."