Tanger Outlet Centers Breaks Ground On the New Tanger Outlets at Foxwoods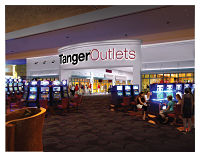 Sept. 26, 2013 – Tanger Factory Outlet Centers, Inc. hosted an official groundbreaking ceremony today to announce that construction has begun on Tanger Outlets at Foxwoods. Once complete, Tanger Outlets expects the new center will feature over 300,000 square feet of upscale branded and designer outlet retailers. Tanger is developing the outlet center in partnership with the Gordon Group LLC.
Foxwoods Resort Casino in Mashantucket, Connecticut, is the largest casino complex in North America and attracts millions of visitors each year. The dynamic environment at Foxwoods Casino complex makes it the ideal location for Tanger's first outlet linked to a casino.
"We are excited to begin construction on our first outlet center connected to a casino and look forward to bringing the Tanger Outlets shopping experience to Foxwoods' visitors as well as to many Connecticut residents," said Steven B. Tanger, President and Chief Executive Officer of Tanger Factory Outlet Centers, Inc. "We plan to deliver designer and brand name outlet stores to this exciting tourist destination. Foxwoods is a compelling location for our top retail partners who are looking to expand into new markets and reach new customers."
Visitors will be able to enter the Tanger Outlet Center from two indoor entrances including one in the Grand Pequot Tower and another in the MGM Grand at Foxwoods Hotel. We believe the site will benefit from visitors to the casino looking for non-gaming activities and residents throughout Connecticut looking to shop top brands at a great value. The concept, design and merchandising of the Foxwoods center will be similar to those within the successful, established Tanger portfolio of outlet centers in the United States and Canada.
"In cooperation with key individuals within the Mashantucket Pequot Tribal Nation, the Tanger Outlet Centers and Foxwoods Resort Casino have worked relentlessly to solidify this new partnership, it is exciting for all of us to begin seeing the fruits of that labor with the start of construction," said Chairman Rodney Butler. "The groundbreaking reflects a major change to the retail landscape in the region that I believe will result in far-reaching and long-term positive effects on our Tribal Nation, state and local economy. The Mashantucket Pequot Tribal Nation is proud to be a strong community partner and prouder still to embark on this project as we work toward a bright future."
Tanger Outlets offers consumers the opportunity to purchase merchandise that is on trend and in- season from leading designers and brand name manufacturers at a savings of 30 to 70 percent off retail prices. Tanger Outlets Foxwoods will include over 80 leading brand name and outlet stores including: American Eagle Outfitters, Ann Taylor, Banana Republic, Calvin Klein, Coach, Fossil, Gap, LOFT, Michael Kors, Nike, Skechers, Steve Madden, Tommy Hilfiger and many more.
The projected total cost of this ground up construction project represents an estimated $115 million investment in Connecticut. We expect that the new center will have a positive economic impact for the area by creating an estimated 400 jobs during construction and approximately 900 full and part-time retail jobs upon completion. Once complete, we expect the center will create an estimated $10.4 million in annual sales tax.
"As part of our commitment to operating a world-class destination resort and providing our customers with unparalleled entertainment experiences, we are proud to announce the groundbreaking of Tanger Outlet Centers," said Scott Butera, President and Chief Executive Officer of Foxwoods Resort Casino. "I believe that the Tanger Outlets at Foxwoods will be a premier shopping destination in the United States; providing an outstanding variety of designer and brand name retailers offering low prices and an incredibly exciting option for our guests. The services and amenities available at the outlet center will not only provide another service to our loyal guests but also to our valued team members and our local community. Tanger Outlets is an industry leader with a strong reputation for providing outstanding shopping experiences. The partnership of Foxwoods Resort Casino, Tanger Outlets and the Gordon Group is truly an exciting opportunity for all involved."