Lowe's Donates $250,000 To American Red Cross To Help Colorado Communities Impacted By Floods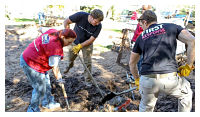 Sept. 27, 2013 – In response to the deadly flooding in Colorado, Lowe's announced today it will expand its relief efforts by donating $250,000 to the American Red Cross to support the recovery of local families and communities. In the aftermath of the flooding, Lowe's has assisted residents in the hardest-hit areas by delivering critically needed cleaning supplies and providing volunteer assistance to local homeowners.
Today's donation will support the American Red Cross' efforts to provide food, shelter, emotional support and other relief to thousands affected by the flooding that devastated communities in Colorado.
"Our hearts and thoughts are with all of our neighbors in Colorado whose lives have been impacted by the recent flooding," said Joan Higginbotham, Lowe's director of community relations. "We're thankful for the efforts of local volunteers, including members of our Lowe's family, and we'll continue to partner with the Red Cross to assist those in need."
Last week, Lowe's Heroes employee volunteers teamed with Lowe's national disaster relief partner, the First Response Team of America, to assist homeowners in Longmont. They distributed hundreds of relief buckets filled with cleaning supplies and helped residents by removing mud and debris, cleaning out basements and garages, and responding to individual needs. Lowe's Heroes and the First Response Team continued their relief efforts Wednesday in Lyons, where they assisted homeowners in one of Colorado's hardest-hit communities.
As a member of the Red Cross' Annual Disaster Giving Program, Lowe's pledges donations on an ongoing basis in advance of disasters to help ensure the Red Cross can take immediate action. Since teaming with the Red Cross in 1999, Lowe's and its customers have contributed more than $25 million for disaster relief.
"Thanks to the generosity of Lowe's, the Red Cross is able to provide critical support to flood victims in Colorado," said Neal Litvack, chief development officer at the American Red Cross. "These contributions, along with the support of the American public, enable us to respond immediately during disaster relief efforts to help those in need."
The Red Cross has been providing shelter and assistance to Colorado flood victims for more than two weeks. Red Cross volunteers have served more than 82,000 meals and snacks, handed out more than 90,000 relief items and provided as many as 7,500 health and mental health services. In the days and months to come, Lowe's and its employees will continue to work with the Red Cross and the First Response Team to support the recovery of individuals and families affected by the flooding.