Lidl Wins 'National Retailer of the Year' for Green Credentials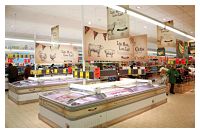 Sept. 30, 2013 – Across the pond, Lidl UK has been named the 'National Retailer of the Year' in the annual RAC Cooling Industry Awards for its new state-of-the-art refrigeration system that significantly reduces its carbon footprint and promises to further cut back on food write-offs.
Lidl was shortlisted alongside ASDA, Morrisons, Tesco and The Co-operative Group for the award but stood out for the judging panel with the £27-million system, which is currently being rolled out nationwide to its 600-strong store portfolio.
The new system comprises plug-in chillers with a leakage rate of less than 1%, making them more environmentally friendly, efficient and cost-effective than ever before. Each chiller cabinet also functions independently so that, if one chiller fails due to external power loss, the other chillers will continue to operate. Over time, this will significantly reduce write-offs and operation costs.
"This new technology is our best ever and has the low electricity consumption of a synthetic system while clearly beating any alternatives based on natural refrigerants," Central Services Director Bernhard Klein says.
The new system strengthens Lidl's existing commitment to corporate social responsibility policies that include charging for plastic bags, and choosing not to airfreight stock.