The Best In Beauty Packaging, Emerging Brands And New Innovations Announced By HBA Global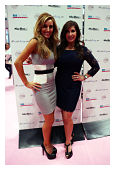 July 12, 2013 – HBA Global, the leading product development event for the beauty and personal care industry, announced the winners of several industry awards for innovations in package design, emerging brands and suppliers' new products. With its online communities and show attendees voting, the HBA awards reached a worldwide audience of top beauty and personal care brand manufacturers, retailers, and consumers.
The on-site New Product Showcase at HBA Global had attendees voting for their favorite finished products and packaging innovations from global suppliers and emerging beauty and personal care manufacturers.
The HBA Global 2013 People's Choice Best Finished Products:
-Resvology for its Age Corrective Eye Cream & Age Corrective Wrinkle Treatment, that are clinically proven anti-aging products with proprietary 4-AR Molecule that visibly softens fine lines and wrinkles, restores elasticity, and deeply moisturizes.
-TwinLuxe LLC for its award-winning Anti-Ageing SPF Moisturizer, infused with stem cells and high levels of antioxidants.
The HBA Global 2013 People's Choice Best Packaging Products:
-3C Inc. for its Double Wall Spray Bottles, available in 15, 30, 50, 80 and 120ml and Matching Jars available in 15, 30 and 50ml. Its Eyeliner Pens, available in 6 different designs, with a soft brush or nylon tip, and an airtight cap that protects the applicator from drying out was also a People's Choice.
-Guangzhou Ouxinmay Packaging Company for its new Cosmetic Sponge Tube.
During the three days of the HBA Global event, attendees also visited the SPLASH! Pavilion and voted for their favorite emerging brands.
The Best of SPLASH! 2013:
-The Beauty Company Inc. for its exclusive full line of KUMIKO 100% Natural Skin Care Sponges that nourish the skin, while removing impurities and loosen skin cells to deliver pure and clean skin without the need for cleansing products.
-Resvology again for its skincare brand based upon the 4-AR Molecule. a clinically-designed solution to help tackle the specific aspects of aging skin – fine lines and wrinkles, loss of firmness and uneven skin tone. Results are clinically-proven, clinically-tested and unprecedented.
The winners of the beauty industries only packaging design competition were also announced by celebrity presenter, Jacqueline Laurita, reality star of Real Housewives of New Jersey and founder of Altruistic Beauty.
The HBA International Package Design Awards (IPDA) Grand Award & Category Winners:
– Tom Binns for Lisa Hoffman Beauty Fine Fragrance Jewelry by Lisa Hoffman Beauty/Tom Binns was the Grand Award Winner and Category Winner for Fragrance Prestige.
-The Curve by NYX Cosmetics for Cosmetics Mass
-Peak Performance Mascara by Pop Beauty for Cosmetics Prestige
-Royal Copenhagen 1775 by Five Star Fragrance Company, Inc. for Fragrance Mass
– L'Oreal Paris Advanced Haircare by L'Oreal Paris for Haircare
-Stila for E! Live from the Red Carpet Solar Illuminated Refillable Compact and Powder Duo by Stila for E! Live from the Red Carpet for Innovations in Sustainable Packaging
-Dove Men + Care Face Care and Shaving by Unilever–Dove for Personal Care Mass
– MDSolarSciences by MDSolarSciences for Personal Care Prestige
-ARTISTRY Intensive Skincare 14 Night Restore Program by Amway for Sampling/Travel Size Packaging
-Fresh Effects by Olay for Skin Care Mass
-Caudalie by Caudalie for Skin Care Prestige
-GOLDFADEN MD by Nadia Yousif for Goldfaden MD for Skin Care Product Lines
– MACRO Exfoliator by Rodan + Fields Dermatologists for Tools and At-Home Devices
In addition, a Facebook campaign where the entire HBA community could vote for their favorite new package took place and the winner of IPDA People's Choice Award was Beauty Red by Esika.
To view all the winners of the HBA IPDA go to: http://www.hbaexpo.com/ipda/ipda-2013winners. For more information on HBA Global, its exhibitors, and supplier resources go to: http://www.hbaexpo.com.