Macy's Wheels In For The Launch Of New Parisian Inspired Brand Maison Jules Fall / Winter 2013 Collection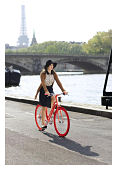 July 12, 2013 – Macy's celebrates the launch of its new Parisian inspired fashion brand, Maison Jules by introducing a limited edition bike, in collaboration with Martone Cycling Company. In step with the current trend of the bike as a key fashion accessory, the collaboration has resulted in the creation of a custom "Maison Jules X Martone" bike. Beginning August 1st, 151 bikes will be displayed alongside the collection in Macy's top doors carrying the line. Each of those 151 "Maison Jules X Martone" bikes will be given away to a lucky customer who has won a store-wide sweepstakes.
Feminine, elegant and edgy, Maison Jules targets the fashion savvy Macy's customer who is hip and trendy but has her own individual taste. Drawing inspiration from casual chic French styling, the collection is composed of key wardrobe staples that can be cultivated into multiple looks.The "Maison Jules X Martone" collaboration merges Macy's new Parisian street style fashion brand with an authentic street accessory for the girl on the go.
The exclusive, limited edition bike is offered in an exclusive coral shade; a key color found within the Maison Jules fall line. Each of the 151 custom Martone bikes will be awarded to one lucky winner per store through an in store text to win contest. Customers can enter by texting the unique code for their store, found in the Maison Jules shop. There will also be a style contest conducted via Instagram in September, in which one grand prize winner will be awarded a trip to Paris, a "Maison Jules X Martone" bike, and a Maison Jules wardrobe valued at $500.
"We are thrilled to collaborate with Maison Jules, and created a bike that became an accessory for this girl: fashionable but dynamic, bold but feminine," says Martone Cycling Company's founder, Lorenzo Martone. "We believe in individuality and that everyone has a creative vein, so we are looking forward to seeing the results of Macy's Instagram contest, and want to wish luck to all of the participants."
Maison Jules will launch exclusively at Macy's on August 1, 2013. The brand will be available in Macy's Impulse departments and will feature a selection of tops, sweaters, dresses, and pants. Ranging from $17.50 – $119, Maison Jules will bring a uniquely French flair to fashion customers across the country.