New product opens supermarket doors to special-needs shoppers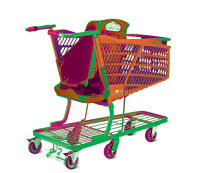 July 15th, 2013 – During her early years, Caroline Long fit comfortably in the child seat installed in traditional grocery carts. But soon she outgrew those seats, putting her mother Drew Ann Long in a bind. Caroline has Rett's Syndrome, a nervous system disorder that has left her unable to walk, talk or use her hands. Drew Ann, who also has two typical children, soon realized that she needed an original solution to her grocery-shopping problem. Neither hiring a babysitter nor pushing Caroline in a wheelchair while maneuvering a grocery cart was practical, so Drew Ann Long gave new meaning to the phrase "necessity is the mother of invention" and designed a custom cart that would allow her to shop with all of her children freely.
From Drew Ann's vision Caroline's Cart is a state-of-the-art product that will provide families of special-needs children new freedom of mobility nationwide. A number of retailers have already pre-ordered Caroline's Cart, and the official launch of the product is scheduled for July 18 at the headquarters of the manufacturer, Technibilt. Ltd. in Newton, NC.
Technibilt, member of the Wanzl Group, the world's largest producer of grocery carts, will start production on a line of Caroline's Carts on August 1, and the media are invited to get a look at the cart and hear the inspiring story of its birth at the official launch on Thursday, July 18 at 11 a.m. At the event, the media will have the opportunity to meet elected officials and special-needs advocates who have thrown their support behind this innovative product.
As the word has spread in the special-needs community and selected stores have tried a prototype, Caroline's Cart's has won people over. David Orfinik, the vice president of sales and marketing for Technibilt, is convinced that the cart is essential supermarket equipment. "Technibilt is thrilled to be a part of this amazing grocery cart for children with disabilities. It is going to provide families the opportunity to shop with their child with a disability, with the same ease as a typical child. We thank Caroline's mother and inventor of Caroline's Cart, Drew Ann Long, for recognizing this need and having the strength and fortitude to make it come to fruition. We feel that retailers and grocers world-wide will embrace this opportunity with open arms," Orfinik said.
Caroline's Cart innovative contribution to special-needs individuals has already been honored, most notably with the prestigious 2013 Da Vinci Award for Transportation and Mobility. In 2012, Caroline was named a National Youth Ambassador for Easter Seals, an opportunity that gave a greater platform for her story and the cart that bears her name. Easter Seals is so enthusiastic about the cart that it will be the first product emblazoned with the organization's iconic lily logo.
Michael Garry, a columnist for "Supermarket News," offered an decisive endorsement of Caroline's Cart in a January column: "While I don't normally plug products — whether for-sale or store equipment like this shopping cart — I will make an exception here," Garry wrote of Caroline's Cart. "Every store should offer at least one."