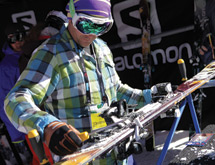 The Outdoor Retailer Winter Market 2014, Jan. 22 to 25 at the Salt Palace Convention Center in Salt Lake City, will bring together retailers, manufacturers, industry advocates and media to conduct the business of outdoor recreation.
From small shops and regional chains to the largest national and international retailers, Outdoor Retailer attracts buyers and senior-level decision makers who are looking for outdoor-specific products. The show helps them find services, brands, fresh ideas, apparel launches and outdoor innovations. Also at the show are companies that sell outdoor apparel and equipment, climbing technology, footwear, ski mountaineering, camping, backpacking, cycling, water sports, rescue, outerwear, yoga and fitness gear and accessories.
Outdoor Retailer connects approximately 50,000 attendees on a semi-annual basis at its summer market and winter market shows, and thousands more through its year-round online resources and platforms. Each show also has an outdoor demonstration component. For the winter market, it is held the day before the expo at a local mountain, and for the summer market, it is held at at a lake. The outdoor demonstration enables buyers to test products in the outdoors. At the Outdoor Retailer Winter Market 2014, the mountain demonstration will be Jan. 21.
Outdoor Retailer also provides and promotes retailer education, advocacy, responsibility and critical face-to-face business initiatives within the outdoor industry. It is designed to help brands that are interested in progressing and advancing into multiple channels of the outdoor marketplace through business-to-business trade shows, media events, product demonstrations and web-based business solutions.
Outdoor Retailer is produced by Emerald Expositions, based in San Juan Capistrano, Calif. Both the winter market and summer markets are held in Salt Lake City. The Outdoor Retailer Summer Market 2014 will be Aug. 6 to 9 at the Salt Palace Convention Center. The open-air demonstration will be Aug. 5. The winter and summer markets are consistently named among Trade Show News Network's 25 fastest-growing trade shows by attendance. For more information, visit www.outdoorretailer.com.