New York City Wine and Food Festival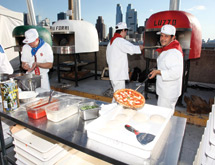 The Food Network's New York City Wine and Food Festival presented by Food and Wine on Oct. 17 to 20 continued its long-standing tradition of designing unique lifestyle opportunities that appeal to everyone's taste buds. This year, it was "Jets + Chefs: The Ultimate Tailgate," which was presented by Diet Pepsi and hosted by Joe Namath and Mario Batali Oct. 19 at New York City's Pier 92.
Batali gave his chef coat a rest and donned green and white gear to team up with NFL legend, Super Bowl champion and Hall of Famer Namath to host a day of grilling demonstrations, ramped-up tailgate fare and interactive fan-fanatic activities for the family. Like all festival events, proceeds from it benefitted the Food Bank for New York City and Share Our Strength's No Kid Hungry campaign.
The event brought together more than 20 chefs and former New York Jets stars for a new type of gridiron classic that offered samplings of amped-up game-day cuisine and culinary demonstrations. Spectators also got in on the action with authentic FanZone activities, including the chance to win game tickets with pre-game field passes and take pictures with the New York Jets flight crew.
Batali and Namath were joined by former New York Jets players for the ultimate tailgate experience. The Jets partnered with the Institute of Culinary Education to launch the official New York Jets Cooking School – Tailgating Division. It provided opportunities for fans to participate in tailgating classes and football-themed cooking experiences that started in September.
Best New Chefs
Passionate gourmands did not want to pass up the opportunity to attend the Food and Wine Best New Chefs 25th anniversary party presented by Delta on Oct. 18 at the Mandarin Oriental. It proved to be an extraordinary evening with 25 Best New Chefs winners from the last quarter-century attending.
Guests also enjoyed a special dessert lounge overlooking Central Park featuring champagne, actress and cookbook author Ali Larter and a handful of New York's finest pastry chefs serving up decadent dishes to top off the party.
Cocktail lovers were able to indulge their passion at several events during the festival. Those seeking to satiate a more savory craving attended the festival's tribute to everyone's favorite lunchtime combination at Hidden Valley's Soup'er Sandwich, presented by Martin's Famous Potato Rolls, and hosted by Jeff Mauro at Hudson on Oct. 19. More intimate dining experiences were available at one-of-a-kind, chef-driven offerings that were part of the Bank of America dinner series.
Global Fare
The festival brought fans wine and culinary experiences from around the world and included chefs from Hong Kong, Brazil and London. Regional U.S. chefs included ones from Florida, Chicago, Louisiana, South Carolina, California, Massachusetts and New Jersey.
Additionally, the festival presented several new events that amped up the global atmosphere even more, including the Global Night Market, an Oktoberfest and a Gotham West Market opening party.
For wine connoisseurs or oenophiles, several events were held: a South African Wine Odyssey, Italy Meets Germany in Wine and Food, Diversity from the South of France and The Rosé Lifestyle of St. Tropez.
South Beach Preview
The 13th annual Food Network South Beach Wine and Food Festival presented by Food and Wine will be Feb. 20 to 23. The 2014 Festival features a variety of signature events, late-night parties, intimate dinner experiences and fitness activities in Miami.
The festival will kick-off beachside with a marquee event – the 2014 Sports Illustrated Swimsuit models. They will appear at the Delano on Feb. 20 with Moët Hennessy's The Q, which is presented by Creekstone Farms and is sponsored by Miami magazine and hosted by Michael Symon. More beachside dining will be presented on Feb. 21, when fan-favorite chefs will compete at the Amstel Light Burger Bash presented by Pat LaFrieda Meats and hosted by Rachael Ray beachside at The Ritz-Carlton.
Other highlights will include:
Festival Founder and Director Lee Brian Schrager will host his own seminar with food writer Adeena Sussman and Mark Oldman, pairing fried chicken with wines in anticipation of Schrager's upcoming cookbook release in May 2014.
Two of the featured KitchenAid Culinary Demonstrations at this year's Whole Foods Market Grand Tasting Village featuring MasterCard Grand Tasting Tents will be conducted in Spanish by well-known chefs José Andrés and Gastón Acurio.
Chef April Bloomfield will host a special dinner in honor of the 10th anniversary of her Michelin Guide-rated restaurant, The Spotted Pig.
Food Network's Robert Irvine will host the festival's annual family-friendly event, Fun and Fit as a Family sponsored by Carnival, at Jungle Island.
The festival branches out to screen "Soul of a Banquet" – the story of Chef Cecilia Chiang, known for introducing America to authentic Chinese food, at the Miami Beach SoundScape in partnership with the Miami International Film Festival. Special guest Ruth Reichl, writer and former restaurant critic for The New York Times, and Michael Bauer, restaurant critic for The San Francisco Chronicle, will speak on the importance of Chiang's impact on the dining scene nationwide. Additionally, both Chiang and filmmaker Wayne Wang will be in attendance.
American rock legend Sammy Hager will team up with Chef Emeril Lagasse and perform at Sammy's Beach Bar Rum and Cabo Wabo Tequila Present Emeril and Sammy's Rockin' Beach Party.
Fontainebleau Miami Beach will present Wine Spectator's Best of the Best, which is sponsored by Bank of America and Merrill Lynch Wealth Management.
The Celebrity Chef Golf Tournament will be hosted by José Andrés.
Thrillist's BBQ and the Blues will be hosted by Bobby Deen.
Chicken Coupe will be hosted by Andrew Carmellini.
Southern Kitchen Brunch will be hosted by Trisha Yearwood.
Goya Foods' Swine and Wine will be hosted by Michelle Bernstein.
Union Square Hospitality Group CEO Danny Meyer and Caymus Vineyards owner and winemaker Chuck Wagner will be honored at the annual tribute dinner at the Loews Miami Beach Hotel. Those looking for one of the festival's swanky late-night soirées will be rewarded with plenty of options, as well.
The festival has raised approximately $18 million to date for the Florida International University (FIU) Chaplin School of Hospitality and Tourism Management and the Southern Wine and Spirits Beverage Management Center. As a result of these funds, the school will open its new teaching restaurant management lab during the festival weekend.