On Trend
Being a 50-year-old company with unequaled experience in the industry still comes with its challenges. For example, how does one keep up with constant change and the variety of products offered today with competitive sodas, juices, water and energy drinks?
"We're faced with a variety of new products in the market competing for the same dollar," Fachner says. "We overcome that by having good partnerships with syrup suppliers like Coca-Cola and bringing strong brands underneath our ICEE brand. There's a uniqueness about our product that draws people back to it. It's frozen but also has a light and airy texture."
The ICEE Company's other challenge is to keep the ICEE brand relevant to its consumers. Over the years, it has redesigned the cup and the ICEE Bear's look to continue to be appealing for newer generations. In addition, The ICEE Company launched the Mix-It-Up machine, which allows consumers to create their own flavors. Consumers can choose a Coca-Cola, White Cherry or Lemonade product as the base, then add a shot of a variety of flavors designed to complement the taste profile and color of the base flavor. This machine is expanding to many different locations as well.
"You can have it your way," Fachner adds. "Millennials, especially, like to customize their beverages and the Mix-It-Up is designed to do that."
Plus, ICEE launches several new flavors every year. The 2017 flavors include:
Laffy Taffy Banana: an iconic candy brand and perfect taste profile for ICEE, available February to May.
Fanta Sour Grape: a tart and tangy twist on classic grape flavor, available March to May.
Dragon Fruit: a new flavor with exotic fruit appeal that is tangy and slightly sweet, available May to September.
Mango Strawberry: a popular blended taste with a great appeal to consumers of all ages, available May to September.
Frosted Lemonade & Strawberry Lemonade: a summertime classic for ICEE, available May to September.
SweeTart Cherry: the top-selling cherry candy flavor, available September to December.
Mango Chili Lime: a new flavor blend of sweet and tangy with strong appeal to Hispanic consumers, available September to December.
Original Cherry and Original Blue Raspberry: a focus on classic, iconic ICEE flavors with all-new ICEE-branded flavor identification.
"We do a lot of research and development for ICEE flavors and we are excited about this year's flavor lineup," Fachner notes.
New Opportunities
The ICEE Company had the opportunity to purchase the equally iconic SLUSH PUPPiE brand in 2006. Both brands are similar in their frozen treat nature. ICEE is a frozen carbonated beverage with a light, airy nature, whereas SLUSH PUPPiE is a frozen blend of water and syrup that is a bit heavier and slushy texture. "The products fill a niche for us in the frozen industry," Fachner says. "We will continue to grow SLUSH PUPPiE domestically and internationally and continue to see a bright future with it. We're currently doing a bit of redesigning with its graphics and cups – constantly trying to make the product more relevant, just like with ICEE."
Opportunities to license both brands have come about thanks to their recognition in the market. Fachner says licensing agencies approached him in the late 90s to say that both ICEE and SLUSH PUPPiE had great brand strength and would do well in other forms and product categories.
"We tiptoed into licensing, and now we're full fledged," he says. "Both SLUSH PUPPiE and ICEE licensed products have performed very well for us. It's advantageous for the brand because it can be sold in other forms and it gives us more advertising on the shelf. We're able to leverage our iconic brand in other forms such as confectionary, outerwear, apparel and other products at retail. We teamed up with a Design Plus, who has been very instrumental in directing us to the right licensors."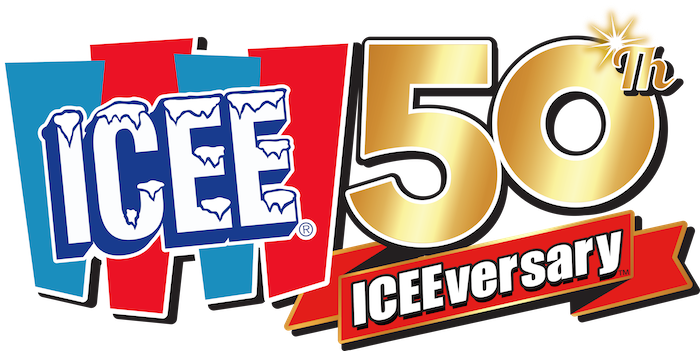 50 Years
ICEE will celebrate its 50th "ICEEversary" this year and has a lot of exciting things planned, including specialty products, cups and social media contests. Some of the celebrations include:
Gold Spoonstraw: the iconic spoonstraw, an essential part of the ICEE experience, will be gold for ICEEversary.
ICEEversary paper cups: 32-ounce paper cups featuring special ICEEversary graphics. The first design will launch in late January, second design in May and third design in September. ICEEversary paper cups will simply replace the current ICEE cup design making it easy to implement for the retailer and widely available for consumers.
ICEEversary Handi Squeeze: this 32-ounce, reusable bottle is a huge hit with ICEE consumers every summer, especially at theme parks, zoos and convenience stores. Bottles will be decorated with all-new ICEEversary graphics and a gold lid.
Golden anniversary cup: Limited-edition golden cups with the signature dome lid will be offered in a series of three different ICEEversary designs.
ICEEversary selfie: Consumers are encouraged to join in the ICEEversary celebration by posting selfies with ICEE products for the chance to win prizes. Taking advantage of the popularity of Snapchat, consumers will also be able to add fun ICEEversary-themed decorations to their selfies before sharing on social media.
New ICEE licensed product: All categories of ICEE licensees will have the opportunity to tie in with ICEEversary. The ICEE Company is working with its toy licensee on an ICEEversary-themed ICEE maker and with a jewelry manufacturer for ICEEversary charms.
"The typical ICEE customer is an impulse buyer, and we want to commemorate and reward that with fun items and contests," Fachner says. "We constantly deliver on that by making sure we have the right equipment with the right brand sets and the right products with it."
Iconic Brand
The ICEE Company credits it's 50 years of success to being driven by what its customers want and need. "The most important thing for us at The ICEE Company is to take care of our valued customer and loyal consumers", Fachner says. "Equally as important is for us to continue to make The ICEE Company a place where talented employees enjoy coming to work each day. We have a fun product and we want our people to work hard and enjoy their jobs. We encourage a level of entrepreneurship that has allowed us to have a lot of tenure as well as well as to bring on some extremely talented young people along the way.
"I am truly grateful to be surrounded with such great talent, both young and experienced who are truly dedicated to the ICEE brand and company. In addition to loyal staff, we have strong support from many long-term partners such as Coca-Cola, Jogue Syrup, Cornelius, FBD Frozen Beverage and Letica Corporation. These partnerships have contributed to The ICEE Company's growth and the success of the ICEE brand."
Fachner is pleased to see how the ICEE brand grew from small, humble beginnings with little limited distribution to the global brand it is today, with primarily in-store advertising. "There was a day when I was in sales, and I would knock on a door and talk about ICEE and people didn't know what it was," he recalls. "I had to pull out photos to explain everything, but today it has such broad recognition and has grown so rapidly, it has become an iconic brand."
"Now, customers can head into any theatre to order an ICEE, go shopping at a Mass Merchandiser and order an ICEE, or grab a burger, fries and an ICEE. It is everywhere and still growing. I'm proud of the ICEE brand and its strength", Fachner says. "Nothing is more exciting to me that to walk into a location and see ICEE being poured there. I love it when I turn a corner and see someone carrying an ICEE or watching the characters on Big Bang Theory debate on the best place to get an ICEE. Those are the types of events that make me realize how much the ICEE brand has grown".