The Customer Experience
HVHC works hard to make sure that every aspect of the customer's experience is exemplary. This all starts with the cornerstone of HVHC: the importance of eye health and clear vision. "There's so much that our doctors can detect from an eye exam; it's just as important as a physical," Eisen notes. A comprehensive eye exam can not only detect common eye conditions like glaucoma and macular degeneration, but systemic issues like diabetes, thyroid disease and neurological impairments as well. Eye exams don't just maintain eye health and vision, but overall health and wellness. Visionworks is affiliated with only the most skillful doctors of optometry to perform their comprehensive eye exams and other necessary eye care services, a big part of their success as an eye care provider.
Davis Vision similarly makes eye health its first priority. While most consumers see a vision benefit as a way to get discounts on eye care and eyewear, they often miss the full picture of its benefits and what it can do for them. Americans are more likely to see their eye care professional for an eye exam than their general health care provider for a physical, so offering vision coverage is a helpful way to monitor an employee's overall health. Davis Vision not only provides exam coverage to members, but it serves as a resource of information for clients and members. A premium vision benefit can give consumers access to the vision care and eyewear they need to reduce medical costs and see their best throughout life.
HVHC doesn't stop with providing their customers with comprehensive eye exams. Once the prescription is created, the next step is helping each customer to express themselves through their choice of frames – with thousands to choose from. Visionworks store associates work to make sure every customer finds a frame that complements their face and helps to bring out people's individual fashion. This means shopping through an average of 2,000 frames per store, with top brands like Chelsea Morgan, Guess, Vera Bradley and Nike leading the charge in bringing bold, innovative designs to customers.
With a commitment to members and customers, Visionworks and Davis Vision continuously explore innovative customer service options. This includes live web chat, online appointment scheduling, seamless e-commerce experiences and a U.S.-based call center open seven days a week to help customers with their needs. Visionworks and Davis Vision work hard to put customers first. "Through the products and services we offer, we ensure that customers leave our store with the best possible vision they can have," Eisen says. "It all comes down to the end-user experience: taking care of the medical and fashion needs of our customers."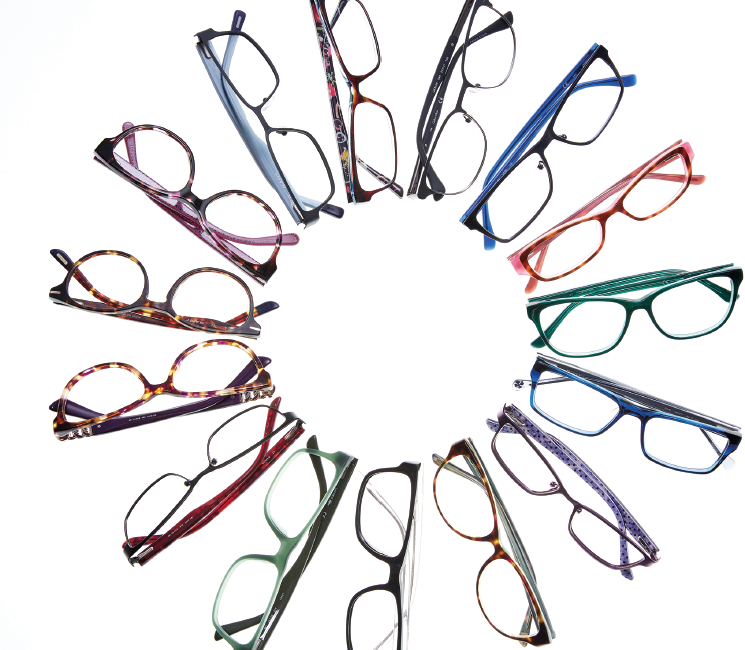 HVHC in the Community
HVHC takes its commitment to eye health and clear vision beyond just its own customers. The corporation works to grow awareness of the importance of eye health and optometry care, especially for children. While physicals and general check-ups are common with children, eye care often falls by the wayside. Many schools work to combat this by providing vision screenings, but such screenings are not a diagnostic process and cannot replace a comprehensive eye exam. Screenings can detect some eye issues and provide valuable information and education about eye care, but they do not test for eye function or mobility and will likely miss 60 percent of undiagnosed vision conditions. Thus, the problem persists because children can pass a vision screening but may need glasses, which can only be diagnosed by an optometrist.
This is why Visionworks and Davis Vision established Let's Go See, a national effort that commits to giving out vouchers for 10,000 free eye exams and free pairs of glasses to children in need. This brings the gift of healthy eyes to families that may not otherwise be able to afford eye care, in addition to raising awareness about common eye disorders and encouraging positive habits for future eye health. Preventive eye care will help reduce future eye and overall health issues.
"We believe creating the right habits and getting eye exams makes a huge difference for kids," Eisen explains. "They can get misdiagnosed as having behavior problems, and it's important to get them into that exam. With glasses, kids can see better, are more engaged and do better in school. We feel good about making that part of our culture."
Partnerships in the Coming Year
2017 is shaping up to be an exciting year for Visionworks. Starting in 2017, Visionworks is teaming up with Little League Baseball and Softball® to become the official eyewear and eye care retailer of Little League. Together, Visionworks and Little League will raise awareness about the vital importance of children getting regular, yearly eye exams, as well as the need for high-quality protective eyewear for those school-aged children involved in sports programs.
According to the American Optometric Association, clear vision and healthy eyes play a significant role in everything from a child's performance in school to their performance on the field. Athletic activity requires clear distance vision, good depth perception, a wide field of vision and maximum eye-hand coordination. By keeping on top of vision health, all children can achieve their full potential, in and out of the game.
As part of this partnership, Visionworks will work alongside Little League to provide special offers for participating families and stress the importance of proper vision care. Visionworks will also be working with Little League's Urban Initiative program to provide vision assistance for underprivileged players and teams that wouldn't otherwise be able to afford proper vision care. To date, the Urban Initiative program has encouraged the participation of 4,000 teams – the equivalent of an estimated 52,000 players.
"Knowing that vision is fundamental to kids' success in school, and their performance on and off the playing field, is a compelling reason for our entire company to rally around this cause," Eisen says. "We are committed to raising awareness of the importance of annual eye exams, and this year we're excited to step up to the plate and go to bat for Little League members across the country."
To bring this message directly to the players, Visionworks will be present at the Little League Baseball and Softball's World Series games in South Williamsport, Pa., from Aug. 17 to 27. There, Visionworks will be able to help players and their families learn more about how to keep their eyes healthy at Little League's Family Fun Zone.
"We want our players to achieve their goals, both on the field and off, and getting an annual eye exam and a pair of glasses can help children be successful," Little League Vice President of Marketing and Communications Liz DiLullo Brown says. "Partnering with Visionworks as the official eyewear and eye care retailer of Little League will encourage Little League families to stay on top of their game, including their eye health."
Visionworks is also reaching out to children about the importance of vision health with its upcoming partnership with Viacom, the American media conglomerate encompassing the Nick, Nick JR and TV Land television stations. Starting in January, Visionworks will be joining forces with some of the most recognizable and loved characters in children's programing to bring awareness to the importance of regular children's eye exams and the variety of children's vision options available at Visionworks stores.
One exciting aspect of this upcoming partnership will be Visionworks' segment with "The Texting Yoga Pants," a series of shorts hosted on the Viacom networks featuring the self-proclaimed "mothers of mom com." These mothers share their hilarious and often irreverent views on the life of motherhood with the Viacom audience, bringing into focus the often-ignored ups and downs of being full-time moms. With rave reviews hailing from every corner of the media, from BuzzFeed to The Today Show, "The Texting Yoga Pants" has become a national sensation for mothers that understand the realities of bringing up little ones.
"The Texting Yoga Pants" moms will be bringing their youngsters into their local Visionworks store, where they will share their experience with keeping their children's eyes healthy, as well as raising awareness on the importance of yearly eye exams for children. The moms will have the chance to shop Visionworks' enormous selection of kids' frames, while showing us all what it means to parent. Visionworks hopes the moms have a great time exploring Visionworks and all it has to offer their children.
Looking Forward
Visionworks and the entire HVHC family have a lot to look forward to in the upcoming year. With new partnerships come new opportunities to share the HVHC dedication to bringing fashionable eyewear and comprehensive eye care to every customer. With dedication to customer service, fun and exciting partnerships and a commitment to the community, HVHC leads the industry in health, fashion and overall customer experience.
"We have a mission and value, and it's that people matter," Eisen says. "We translate that with how we treat each other and how we interact with customers. It's really the core of who we are. I'm really most proud of the great culture we've created; it's an exciting time to be a part of this family. We have fun, do good deeds and do good business. We will continue down this path of growth."
With a selection of thousands of fashion-forward frames at Visionworks stores, to unparalleled access to cutting-edge vision care with Davis Vision and proudly U.S.-based production with HVHC Distribution and Manufacturing, HVHC has a clear vision for a bright future.