The success story and partnership behind Lewis Drug's tremendous success
Starting a business in volatile times, especially during a World War, is a risky prospect. But it is one that has paid off for family-owned-and-operated business, Lewis Drug (Lewis). Established in South Dakota in 1942, it has been a trusted retail pharmacy and neighborhood store group ever since.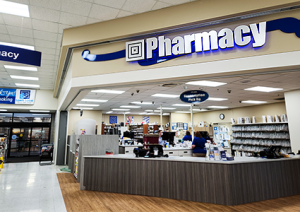 Beginning as one of the original promotional drugstores in the US, Lewis has grown to a regional, retail chain store with 57 locations across South Dakota (its headquarters), Minnesota, and Iowa. After celebrating its 80th anniversary last year, Lewis went on to have its most successful year to date. So, what factors make Lewis exceptional?
"People call on us for convenience, reliability, and great service," begins Mark Griffin, President and CEO of Lewis. "A lot of businesses say they are reliable or provide quality customer service, but we have the proof to back it up. In terms of convenience, we have a vast selection of products in our stores, which are typically 30,000-to-40,000 square feet. Then, unlike many other pharmacies, we haven't reduced our opening hours, and still provide online prescription services. We have amazing staff that our customers really trust, which contributes to our strong reputation as a reliable store."
Comprehensive offering
In addition to its core products, prescription and non-prescription drugs, Lewis also offers a broad range of everyday basics and specialty items at affordable prices. For example, its lawn and garden department is the region's largest plant and outdoor product selection. Lewis stores also stock grocery supplies, home essentials, toys, and health and beauty items, acting as a local convenience store. Additionally, it is a photo processor and an expert pet store and pharmacy, providing medication, food, clothes, and pet toys.
It is evident that Lewis genuinely cares about its customers and is committed to offering high quality products at affordable prices. Its weekly advertisement outlines general offers, but also includes great saving vouchers to be used in store. The Lewis app features rewards programs on myriad products, from ice cream and coffee cups to candles and greetings cards.
More importantly than financial savings, Lewis operates vaccination clinics, consultation services, and works with nursing schools to complete mass vaccinations. For instance, it is still delivering the Covid-19 vaccine free of charge, regardless of a patient's insurance status, and offers a variety of services within its stores, such as free blood pressure checks, diabetes screening, and medication reviews.
Convenient resources
As a family business, Mark spent his childhood helping his father in the stores, before taking over as CEO after he had created his own investment business. "I had a broad base of experience through working with people in the stores from an early age," he recalls. "From there, I went to school, then had five years working in other businesses, and eventually, my father trusted me with the responsibility of Lewis. One thing my father taught me was how to negotiate, which is particularly vital today and has helped us to have 81 successful years so far!"
Then, in the 1990s, Lewis predicted a trend in healthcare and pharmaceutical services that would require greater convenience between doctors and pharmacists. So, in 1998, it entered an agreement with Sanford Health (Sanford), the dominant healthcare system in the Upper Mid-West, to connect pharmacies with other healthcare provisions.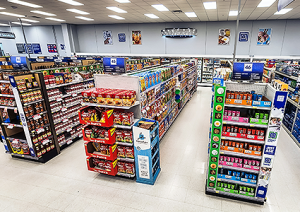 "Our relationship with Sanford is still flourishing," Mark states. "Over the course of 20-something years, our involvement has grown from ten stores to 45, all attached or connected to healthcare facilities, whether that's a doctor's surgery or a hospital. We work efficiently together and share opportunities within the healthcare field, so they work with us on vaccinations, diabetic support, and healthcare clinics."
The relationship between Lewis and Sanford entered a new generation in 2022, due to the construction of a shared development in Sioux Falls, South Dakota. "With 33,000 square feet allocated to us and a further 40,000 for Sanford, the new complex will become our headquarters upon completion, which is set to be at the end of 2023," explains Mark. "With our pharmacy connected to the waiting room, it will bring a very convenient arrangement to the citizens of Sioux Falls."
He adds: "We also have an ongoing program where we physically place a Lewis pharmacist within Sanford's hospitals or clinics to provide patients with information and operational access to pharmacy services. This provides a great resource for the community, as it provides ultimate healthcare convenience for the local region."
Additionally, Lewis opened a new pharmacy in Harrisburg in 2022, also attached to a Sanford clinic, and a further two stores are currently under construction. Mark also reveals: "Sanford is always looking for acquisitions and is in the process of completing one in the Minneapolis region and it would be unusual if Lewis is not involved in some way."
Turning to the future, Mark explains: "We would like to continue being successful with measured growth, both operationally and in terms of relationships. I want to continue supporting my team, as I believe the business is only as successful as the individuals within it. However, the whole industry is changing at light speed and there is a lot of demand to enter the healthcare sector, but not enough room for all to succeed. So, I think we will witness a shift in pharmaceutical services as we continue to adapt to broader changes within the healthcare sector."
With a distinguished reputation for quality and convenience, alongside its loyal customer base, Lewis is flexibly navigating industry changes and is set for success in 2023 and beyond.