Things Engraved is working to become the type of destination where consumers go before knowing what type of gift to purchase – a place where its employees serve as gift consultants and experts. "We want them to come to us beforehand," Brock says. "We want to work with them through the whole gift giving experience, from choosing the gift to wrapping and delivery options. It's a part of our rebranding."
Another part of the company's rebranding campaign includes exploring new brand partnerships, experiential gift combinations and more Etsy-like craft offerings. Although the company had its roots in key cutting and engraving accessories, the new business model is about unique and personalized gifts that transcend an engraved gift.
"Times have changed so we've adapted by adding to our personalization techniques with 3D lasering, etching, foiling and embroidery," Brock says. "We're also looking at dye additions, sublimation, digitalization, signature and exclusive products and designs and other ways to expand on the 'unique and personal' part of our mission."
Things Engraved is also exploring licensed products and looking at adding more brand names to its gift collection. "It could be Star Wars or the Marvel universe," he says. "And the video game sector is where we can explore products as well. I think there's a real desire out there in the gaming industry."
Another possibility is forming exclusive partnerships with other established brands. "We're looking at the wedding category specifically," Brock adds. "We are a natural venue for wedding gifts. So I want to add some rocket fuel to that."
All Things Digital
With nearly 100 retail locations as well as an online store, Things Engraved operates in shopping malls in every province throughout Canada. It has a mix of kiosk and inline storefronts operating under Things Engraved, Personally Yours and Creations Personnelles. "About 85 percent of our business is brick and mortar," Brock says. "But online business is growing fast – double digit growth year over year. It's nearly the size of an entire district of brick and mortar stores."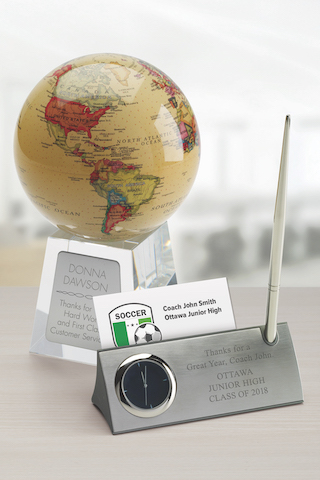 Moving forward, the company is making a substantial increase in its investment in all things digital to offer its customers a better online platform for a larger selection of gifts and unique merchandise. A part of this includes the launch of a new website this year. "One of our current goals is to better utilize technology to make the personalization of gifts easier, more intuitive and more accessible than ever for consumers," Brock says. "We're going to take product personalization and the 'anywhere POS' idea to new heights."
In addition to improving the online experience, Things Engraved will be piloting new digital personalization tools in stores. That includes in-store tablets that will offer instant previews of designs, as well as mobile coupons and special offers. "This is going to help us break out of that emerging perception that brick-and-mortar stores are mainly for browsing while the internet is for buying," Brock explains. "We're going to blur that line and embrace distributed commerce so that our customers will see equal, inter-changeable value in both channels."
In addition, Things Engraved will be launching a new, more robust customer loyalty program this year. "It's not the usual 'buy more, get more stuff' program,'" Brock says. "(It's) one where a customer can leverage their buying power the way they choose to: exclusive discounts and offers, social media exposure, donation and charity, participation, cash back or other rewards that are meaningful to that individual customer."
Being Nimble
Founded in 1982, Things Engraved is known for selling high-quality merchandise that is unique and personalized. The company does its personalization in-house, allowing it to optimize both quality and cost. It practices lean management. "With the new consumer and evolving shopping habits – not to mention the changing workforce – we need to be more efficient, more nimble and more focused than we've ever been," Brock says.
Headquartered in Kitchener, Ontario, Things Engraved is owned by Serruya Private Equity Inc. (SPE), a Toronto-based global investment firm that invests in a broad range of asset classes. With more than 30 years' experience in building global food and retail chains, SPE focuses on transforming companies by collaborating with management to develop and implement strategies to uncover the full potential of their business.