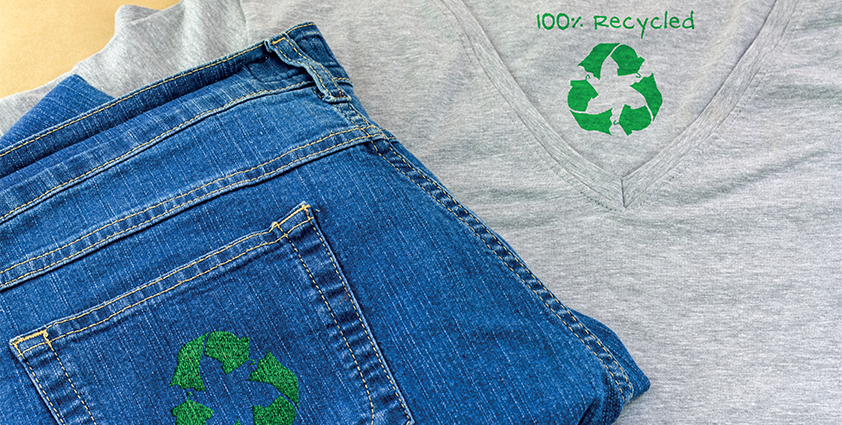 Businesses, governments, and industries need to face up to the impending climate crisis. And with 85 percent of textiles thrown out and not recycled each year (UNECE), the fashion and apparel industry need to make big changes. And soon.
When world leaders gathered at COP26 to highlight the importance of sustainable initiatives, the fashion industry was of particular interest. Because despite generating revenue equal to the seventh largest nation-state in the world, it remains one of the least regulated sectors. This lack of oversight has led the industry to become one of the biggest offenders in terms of CO2 emissions, water pollution, and textile waste.
Big Oil is often a more obvious target for attack when it comes to carbon emissions. After all, it is the world's biggest polluter. But the fashion industry ranks second.
To some, this may seem ridiculous, but just consider: a garbage truck full of clothes is dumped or burned every second; and the UN predicts that every pair of jeans made requires a kilogram of cotton, the production of which uses the equivalent of ten years' drinking water for one person.
Agreeing change is needed
These figures are unsustainable, and fashion leaders signed new agreements at COP26 to halve CO2 emissions by the end of the decade. But Stand.earth analysis ahead of the conference found that none of the major brands they evaluated was even close to hitting their previous target of a 30 percent reduction by the same deadline.
But there is hope that the new agreements aren't just performative. A wide range of fashion brands and organizations recently penned an open letter to world leaders, highlighting the role their industry can play in addressing net zero and climate change goals. In it, they stressed the importance of waste elimination and increased responsibility and the need for a closer partnership with the textiles and manufacturing industries.
The public are also becoming more environmentally aware. According to a McKinsey survey, 60 percent of consumers now include environmental impact as a top consideration when purchasing new items. This buying power has the influence to change the industry from the shop floor right through to the top of the supply chain.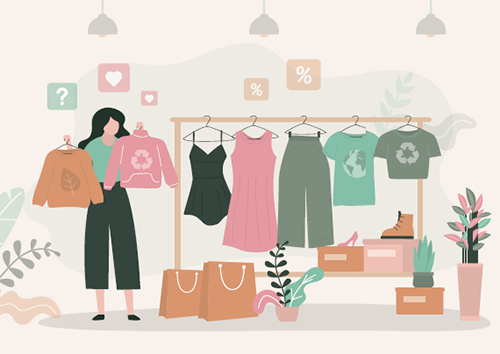 Finding the weakest link
Most of the fashion industry's environmental footprint occurs behind the scenes, away from the public eye. Over half of the sector's emissions come from material choices alone, topped up significantly by the manufacturing process.
K3 research from this year found that apparel brands see sustainability as primarily a supply chain issue. This awareness is leading change, with emphasis put on ethically run factories producing garments from sustainable materials. The brands are eager to communicate these new operations to the end consumer, feeding into their desire for the products they buy to be credibly sustainable and not greenwashed.
For these changes to have real effects, brands across the globe need to implement new and sustainable business practices. This means proactively searching along the supply chain for ways to improve. They must work with their manufacturers to invest in renewable energy and improve waste treatment, understand the origin and impact of the materials used in garments, and ensure the textile industry is reducing waste.
Circling back to a solution
There is no denying that waste is ingrained into the modern-day fashion industry. Almost an eighth of fibers are left on the factory floor, a quarter of garments remain unsold, and fewer than one percent of products are recycled.
For the fashion industry to become sustainable, it must become a circular economy. Through this, a garment has more than just a single value. Instead, it is recycled, whether that's by rental or being sold, repaired and refurbished where needed, and then sold again to continue the cycle.
For obvious reasons, this new model has made brands worried. Traditionally, they are used to a linear model, where garments are created and sold only once. But the rising tide of public sentiment has pushed brands to think more innovatively.
Looop by H&M has brought recycling in-store. For around the equivalent of £10, customers in Stockholm can watch as their garment is shredded, and the machine knits a new one from the fibers. A double win for H&M, creating both an engaging customer experience and helping the consumer, business, and industry become more sustainable.
And they aren't alone in finding new ways to increase sustainability. World-renowned, high-end department store chain Selfridges recently launched their Project Earth initiative. This includes Resellfridges – a range of 'pre-loved' items – a collaboration with clothing rental program Hurr Collective, and a repair concierge service.
Cut your losses with tech
Of course, technology has a huge role to play in helping to reform the fashion industry. Optimizing the entire supply chain is a mammoth task, with brands often unaware of all their suppliers. Technology can help create transparency, with ERP producing meaningful insights through corporate data analyses.
With the correct solutions, brands can understand where wastage occurs and learn how to cut it out, whether that's through the reduction of excess stock or loss in factories. They can support supplier traceability to ensure sustainable practices along the entire supply chain. And critically, they can make sure they are in compliance with regulatory requirements across the globe.
With data-led decisions paving the way, and investments in new technologies to streamline processes, retailers will be able keep up with consumer demand and drive revenue.
It is vital that the fashion industry embraces digitization. Not only for its own survival, but for that of the whole world.
Marco Vergani
Marco Vergani is CEO at K3 Business Technologies Group. As a Microsoft Cloud for Retail launch partner, K3 champions but one ideal: to foster an ethical and socially responsible world driven by sustainable practices. It has innovated retail technology for the last 30 years, but today, it simply aims to empower others to make greener choices – and that starts with its solutions. K3 blends its own IP with third-party products to create platforms that are truly transformative and enable forward-thinking brands to unlock enduring value and trust from intelligent, agile and sustainable business practices. With purpose and pace, K3 will permanently transform fashion, apparel and select retail markets into a model of good business, transparency, and ethical sustainability.
https://www.k3btg.com/