Timeless Frames, Décor & Expressions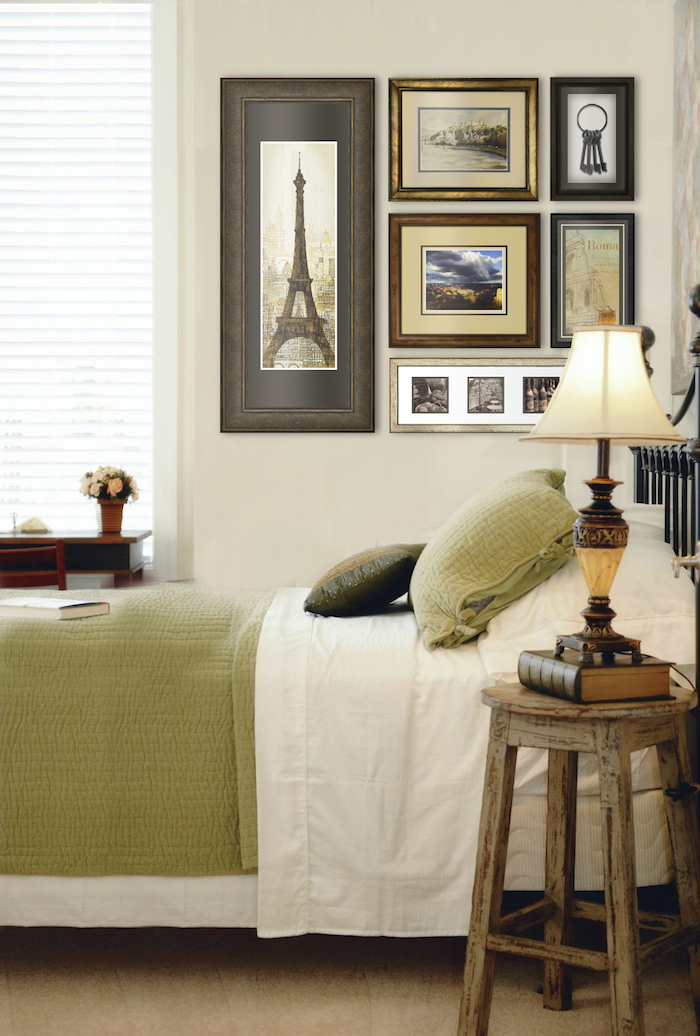 The Timeless family of companies delivers products that exceed clients' expectations.
By Alan Dorich
Quality is not a goal but a way of life at the Timeless family of companies, Director of Marketing Angela Owen says. "That quality comes from a driven team of individuals with an unwavering commitment to high performance and creating products that exceed expectations," she says.
Based in Watertown, N.Y., Owen notes that the start of the Timeless story began in 1999, when one of its customers approached its current owner and CEO, Lisa Weber, about a struggling ready-made frame business.
Weber had always wanted to own her own business, but she had some hesitancy. "Not only was the company located in a geographic area where manufacturing companies were closing, the wall frame business was an unfamiliar industry and competitive obstacles such as import products were a serious consideration," Lisa stated.
When the previous owner called Weber and told her he was closing its doors, she traveled to Watertown the next day to evaluate the business. "Looking at the company financials, Lisa saw the potential of what the business could do with some volume, realignment and good old-fashioned hard work," Owen says.
Weber told the owner she would try running Timeless Frames for a month. "She offered to pay the employees and expenses for the month," Owen continues. "If she lost money, she would cover the losses. If she made money, she would keep the profit."
Great Growth
Weber's bet led to the formation of Timeless Frames and the start of the Timeless family of companies. Weber brought the company's once-struggling manufacturing facility to new heights through hard work and dedication, Owen says.
"Today, the Timeless family of companies employs nearly 200 team members and does business under the names Timeless Frames, Timeless Décor and Timeless Expressions," Owen says. Weber is the CEO of all three organizations.
While Timeless Frames provides wall, tabletop and novelty picture frames, "Timeless Décor is the largest single-site producer of custom framing fulfillment services in the country and offers an extensive collection of framed art and mirrors, matted art prints and pre-cut mattes," she says.
Timeless Décor has recently expanded into the hospitality market and provides framing packages for brands such as Holiday Inn Express, Hilton Garden Inn, Comfort Inn and more. "We see great growth opportunities in this segment of the framing industry and view it as a natural progression for Timeless Décor," Owen adds.
"Timeless Expressions is a premier digital image fulfillment house for corporate, store and web digital images sales," the company says.
"We provide a unique online experience," Owen says. "Blending online digital photo services with the Timeless brand of quality picture frames offers consumers a place to shop, share and compare their products with friends and family.
"Along with offering our assortment of ready-made and custom framing products online, we also offer an expansive collection of art prints and digital keepsake products," Owen says. "We are pleased to offer our retail partners with the option to create a co-branded site, providing their customers with the opportunity to shop the full assortment and have the orders shipped directly to the customer's home or to the store for pickup."
Timeless also has expanded its online presence by adding its framed product lines to the sites of national retail chains including Walmart, Macy's, JCPenney, Kohl's and The Home Depot. "We continue to see growth in this segment [by] continuously expanding our presence on the sites as well as adding our line to new retail partner sites, such as Houzz," Owen says.
Owen credits the Timeless family's success to Weber's leadership. "Lisa does not believe in leaving her destiny or the success of the company to chance," Owen says. "She has always said, 'You get up every day and make a choice as to what you would like to do.'
"She has a passion for what she does and leads her team to aspire to the same passion to ensure success," Owen continues.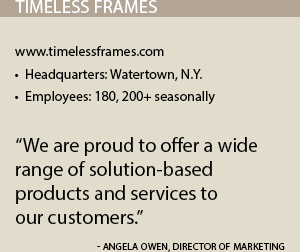 Fitting Needs
The Timeless group keeps competitive by being flexible, having a wide product and service mix and operating as a vertically integrated U.S.-based manufacturing firm, Owen says. "We are able to react to our customer needs and turn our products quickly," she says, "providing our customers the opportunity to introduce new programs to the market quickly as well as maintain a tight control on their inventory levels.
"Whether it is out of our Watertown, N.Y., manufacturing facility, or on an import basis, we are proud to offer a wide range of solution-based products and services to our customers," she says.
"In keeping a key eye on the market, investing in company resources/product development and remaining flexible to our customers' needs, we work to ensure the success of any program. We provide the best product mix and services for each particular customer that fits their particular needs," she says.
Creating Links
Technology is an integral component to the Timeless family's success, particularly in its Custom Framing production facility. "At the startup of the company, through trial and error, we quickly learned that there was not any software available on the market that could support the sheer scope and volume of products that our business model produces," Owen recalls.
It invested in developing Timeless Manufacturing System (TMS), its own proprietary production software. "TMS allows us to link our retail partners directly with the production facility and provides us with real-time visibility to all relevant job information," she says.
"It is fully maintained by us with no third-party involvement," Owen continues. "This allows us the freedom and flexibility to quickly evolve the software and customize it to the customer's needs."
Building the Family
The Timeless companies have nurtured a fun and hardworking culture. "We are family," Owen says, noting that it uses a broad array of recruiting tools that include job banks, posts on job search sites, social media, and local print and radio media outlets.
"We host Timeless-specific job fairs," Owen adds. "We are also committed to the development and growth of team members already with our company, providing opportunities for cross-training as well as posting all open positions to the team to try and promote from within."
Green Friendly
The Timeless family of companies prides itself on operating an environmentally friendly business and strives to reduce its green footprint, Director of Marketing Angela Owen says. Its green initiatives include:
Using recycled goods to make paper components of frames;
Purchasing wood from New York and Pennsylvania's sustainable forests;
Donating its used shipping wood and cardboard to recycling services; and
Donating to reforestation efforts.