Since then, Tobacco Superstore has become one of the largest cigarette and tobacco retailers in the United States. That has been achieved, Marelle says, by meeting customers' needs with the best prices possible.
"With our volume, we try to take advantage of deals and promotions, and try to pass on as much as we possibly can to the customer," he says, noting that the company also works hard to stay current with new products, including vapor, new tobacco and other nicotine delivery products.
"The technology has become very advanced with vapor/electronic cigarettes and other nicotine delivery products," Marelle says. "So staying ahead of the curve and being able to price it correctly is our main focus."
He also credits the company's vendors, which include Swedish Match North America LLC. "Not only are they great people to work with, they identify niches in the market and assist in executing strategies to boost sales," he says.
"As a result of the collaborative efforts with Swedish Match, they have assisted in helping us improve our cigar, moist snuff and snus presence," Marelle says.
Back to Basics
Marelle joined Tobacco Superstore in 2011 after working for Ernst & Young's capital advisory group. During his time at the firm, he helped sell the Cohn family's wholesale business.
When David Cohn died in 2011, his brother, Allen Cohn, asked Marelle to join Tobacco Superstore as its CFO and COO. "I've been running it ever since," he recalls, praising Cohn. "Allen's confidence and faith in me was flattering from the beginning and has continued to help motivate me to ensure Tobacco Superstore maximizes our potential."
Marelle helped implement changes that led to a boost in sales. "When I first started, we had to do a lot to evaluate ourselves," he recalls, noting that the company looked at its SKUs and categories to make sure it was pricing and merchandising items correctly. "We got back to the basics and we looked at where we should be doing better."
One example, he notes, was moist snuff products, which were experiencing a decline in sales. "Since then, we've done a fine job [selling them]," he says, noting that the company enjoyed double-digit growth in his first few years and has experienced solid growth annually ever since.
"A lot of it involves having what the customers want, having it merchandised where it's easy to see and beating competitors on price," he says. "Those have really contributed to our increase in moist snuff."
The company also focused on pipe and roll-your-own tobacco, which led to the formation of Ignite, its own private label brand. "We've put a lot of effort into that," he says, noting that Ignite leads its category in the stores.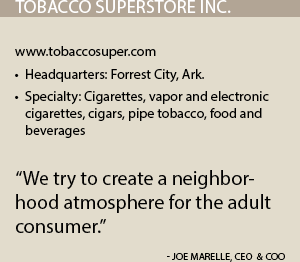 Keeping a Close Eye
Tobacco Superstore continuously invests in technology, including the recent creation of its sales database. "We can look at what every store is selling by line item in terms of quantities and dollars," Marelle says.
With this data, the company can find areas where its stores can improve in terms of managing inventory, internal controls and identifying errors. "Those are always things you've got to keep an eye on," he admits.
"It's allowed us to enforce and monitor those controls," Marelle continues. "Two of our IT personnel, Gary Whitlock and Taylor Stewart, have worked well in helping us do that."
Tobacco Superstore has created a culture where employees help it grow. For example, when the company implemented controls to analyze its business, "Our employees not only helped enhance our ability to get information, but also the way that [we] look at it," he says.
Those team members include Account Receivable Supervisor and Office Manager Melissa Douglas. While she required some training early on, "We're at point now where she can pretty much create a lot of reports [from] data and analyze it," he says.
Marelle also praises her accounting skills. With so many store locations, "There's a lot of money tied up in receivables," he says. "She does a great job of making sure we maximize and collect on those funds. She has been invaluable to our success."
He also praises Human Relations Manager Tracy Webster, who helped the company adjust to the Affordable Health Care Act. "In the retail industry, [it has] created a lot of challenges," he says.
Webster ensured "that we got a policy that met all of the standards," Marelle says. "[We're] monitoring our employee hours to make sure that we're within all the guidelines and doing the best that we can."
Lean Growth
Tobacco Superstore plans for expansion, but "we want to be lean with growth," Marelle asserts. "If I had a choice to open two great stores as opposed to five average ones, we'd go with the two great ones."
The company also is open to reinventing itself, he adds. For example, if customers start to choose vapor products over regular cigarettes, "We're going to focus on doing that," he says.
"There's other product expansion opportunities that we're definitely going to look at," he says, noting that Tobacco Superstore is considering following in the footsteps of its convenience store competitors and possibly experimenting with items such as hot food.
"I see us doing that in some of our stores in the future and growing in that category," he says. "All of those things are going to play a huge factor in our long-term growth."