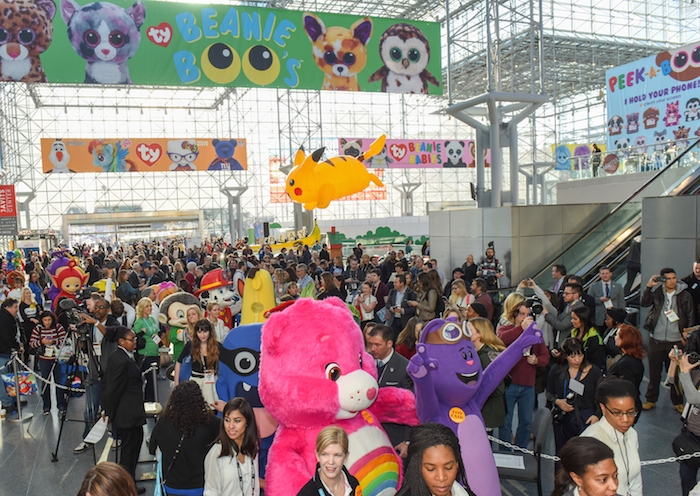 This winter, nearly 30,000 play professionals from around the globe will flock to New York City to check out the hottest new toys and games, conduct business with the world's top toy buyers and sellers and gain critical industry insights at the 114th annual North American International Toy Fair™, the largest toy and youth entertainment product marketplace in the Western Hemisphere.
Taking place Saturday, Feb. 18 to Tuesday, Feb. 21, 2017, Toy Fair will once again bring together global retail buyers, toymakers, toy inventors, licensors, entertainment executives and distributors under one roof for four jam-packed days of deal-making, networking and educational programming.
For more than 100 years, the show has been considered a "must-attend" event for play professionals vying for a stake in the $22 billion U.S. toy market. The show attracts buyers from more than 7,000 unique retail outlets eager to scope out innovative new products on display by more than 1,000 passionate and creative North American and global toy sellers.
New for 2017
Toy Fair 2017 will include an expansion of exhibit space to accommodate a growing number of first-time exhibitors interested in participating at the show. Located in Hall E of the Jacob Javits Convention Center, this expanded area will be fertile ground for spotting brand new product from new and creative toy companies.
"Buyers from both mass and specialty retail outlets who visit Toy Fair will be among the first to see hundreds of thousands of diverse, highly creative product lines from both new and veteran toymakers – including unique toys and games, beloved retro brands, educational playthings and novelty items," says Marian Bossard, senior vice president of global market events at the Toy Industry Association (TIA), the trade group that produces the show. "The Toy Fair playground exhibits an array of products for kids of all ages that are not seen at any other show in the world."
While Toy Fair will always be first and foremost a business marketplace, it has grown into a well-rounded educational and networking fair with seemingly endless opportunities for building new contacts and learning about the future of play, youth trends, licensing, independent retailing, entrepreneurship, U.S. and global toy safety standards and laws and more.
To date, several speakers have been confirmed for TIA's Licensing Content Connection curriculum, an educational track at the show that takes a deep dive into the world of toy and game licensing. Speakers from the Licensing Industry Merchandisers' Association, UBM Advanstar (producers of Licensing Expo and publishers of License! Global) and other experts will share tips and tricks for brand licensing, case studies and more. Additional educational tracks and speakers will be confirmed in the coming weeks; be sure to check ToyFairNY.com for full event details.
Before the Show
Participants can begin their Toy Fair experience even before the show opens its doors with ShopToyFair365.com, the toy industry's dynamic digital social marketplace. The platform allows buyers to peruse virtual showrooms, discover new products and place orders – often with no minimum requirement – from a wide range of vendors.
"ShopToyFair365 is really about the three 'C's' – community, connections and commerce. The face-to-face experience of Toy Fair can't be replaced, but through this platform we've been able to leverage technology to extend some of the core value of the show year-round," Bossard explains.
Toy Fair will take place Feb. 18 to 21, 2017, at the Jacob K. Javits Convention Center in New York City. For up-to-the-minute information about registration, special events, educational opportunities, hotel bookings, shuttle schedules, exhibitor floor plans, and more, visit www.ToyFairNY.com.
About the North American International Toy Fair (www.toyfairny.com)
Toy Fair is an annual event that is owned and operated by the Toy Industry Association (TIA). The largest toy trade show in the Western Hemisphere, the show brings together 1,000 exhibiting manufacturers, distributors, importers and sales agents from over 100 countries to showcase hundreds of thousands of toy and entertainment products to 7,000+ unique retail outlets.
About the Toy Industry Association (TIA) www.toyassociation.org / www.thegeniusofplay.org
Founded in 1916, the Toy Industry Association™, Inc. (TIA) is the not-for-profit trade association representing all businesses involved in creating and delivering toys and youth entertainment products for kids of all ages. Over the past 100 years, TIA has led the health and growth of the toy industry, and today its 900+ members account for an estimated 90% of the annual $22 billion U.S. domestic toy market. The Association serves as the industry's voice on the cognitive, social, emotional and creative benefits of play, and promotes play's positive impact on childhood development to consumers and media. TIA has a long history of leadership in toy safety, having helped develop the first comprehensive toy safety standard more than 40 years ago, and remains committed to working with medical experts, government, consumers and industry on ongoing programs to ensure safe and fun play.