Trending Changes In Beauty & Personal Care Purchasing Kicks-Off HBA Global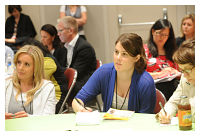 June 17, 2013 – An interactive panel of purchasing and brand development experts will be the Opening Session at HBA Global Expo & Conference. Moderated by On-Air Beauty Expert and Pioneer, Jennifer Walsh, "Purchasing and Trends in Beauty and Personal Care" will take place, Tuesday, June 18th, at 9:00 a.m. in the Special Events Hall at the Javits Center in New York.
Sharing their unique view on trending changes in product development, finding global suppliers, sustainable packaging, new materials and conversion technologies and more are the following panelists:
Bob Bastedo, Executive Director, Purchasing, Shiseido America Inc., who heads up all raw material and packaging component purchasing as well as subcontracted manufacturing procurement in support of Shiseido products made in the U.S. and all Nars Cosmetics items produced globally. He also oversees the turnkey buying activity for major OEM customers of Shiseido America's contract manufacturing subsidiary, Davlyn Industries Inc. Prior to his current position he worked for LVMH and the Donna Karan Beauty Company.
Ken Kearns, Global Practice Lead – Packaging, Procurian, provides providing procurement and supply management services to client companies via Sourcing and Category Management teams located in North America, Europe, Latin America and Asia-Pacific. He began his career with Chesebrough-Pond's and subsequently served in a series of increasingly responsible product engineering and supply chain leadership roles with Unilever spanning the company's corporate center and operating companies and culminating in Mr. Kearn's leadership of packaging supply management for Unilever Home & Personal Care – North America.
Carol Puttre-Czyz, Director, Purchasing, Clarins USA is a purchasing/creative services professional with over 25 years' experience in the cosmetic industry, most recently with Clarins for 10 years. She formerly worked in the fragrance division of LVMH and also at Sanofi Beaute. Besides the technical side of purchasing, she specializes in the creative aspects, including design development.
"HBA attendees will be able to start their HBA experience with plenty of food for thought with this highly topical panel discussion," said Jill Birkett, Brand Director, HBA Global Beauty & Wellness Events.