Michaels Rolls Out Free Mobile Craft Tour To Celebrate 40 Years Of Creativity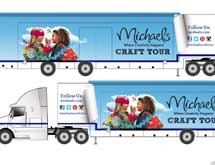 June 18, 2013 – To celebrate its 40th birthday, Michaels will launch the first-ever Michaels Craft Tour this month in a specially designed 18-wheeler that features a fully stocked, 1,000-square-foot craft room on the inside. The tour will travel throughout the U.S. from coast-to-coast, visiting store openings, outdoor festivals and other events along the way.
At each stop, kids and adults can climb aboard the truck for hands-on crafting fun with free family craft projects. Visitors can also take pictures with Michaels' interactive social media walls and share photos of their crafts through social media channels using #michaelscrafttour. Other features include TV screens showing Michaels DIY videos.
"We wanted to do something big to celebrate our 40th birthday with our customers, and the Michaels Craft Tour and truck is a one-of-a-kind craft party on wheels," said Michaels Director of Local Marketing Chris Young. "We've been spreading creativity since the first Michaels store opened in Dallas in 1973, and we look forward to seeing old friends and making new ones as we travel the nation."
Joining the fun on some stops will be Michaels Creative Expert Jo Pearson, known to crafters around the country for her informative how-to videos, shown in stores and on michaels.com. The tour begins in Utah in June and will continue through October.