TruMoo Chocolate Milk Ranked Among Top Five Most Successful New Consumer Packaged Goods Brands Of 2012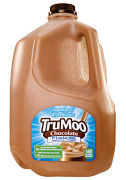 April 22, 2013 – TruMoo Chocolate Milk, a product of Dean Foods, has been ranked as the fourth most successful new consumer packaged goods brands of 2012 by Information Resources, Inc. (IRI), the leader in delivering powerful market and shopper information and predictive analysis. Nearly 1,900 new CPG brands were introduced in the US between 2011 and 2012, and TruMoo, which was recognized as a New Product Pacesetter Rising Star in 2011, is among the 11% that met the IRI's strict, industry-recognized benchmarks of exceptional first-year sales success.
TruMoo is billed as a better-for-you chocolate milk, made with fresh white milk – sourced from regional dairies around the country – and pure cocoa, as well as with less sugar and no high fructose corn syrup. Like regular milk, TruMoo provides eight essential nutrients: calcium, protein, vitamins A, D and B12, riboflavin, phosphorus and potassium. As a shift toward nutritious products across all channels continues to be felt, it is not surprising to find that TruMoo also ranked among the top five new convenience store brands in 2012, one of only two brands to do so in this year's report.
After successful regional retail and school pilots in the Northeast and Pacific Coast regions, virtually all of the flavored milk across Dean Foods' family of regional brands converted to TruMoo, making it one of the largest milk brands in the country by sales and by volume.
"In a relatively short amount of time the TruMoo brand has made an indelible impression among consumers, and we believe the quality of our product, coupled with our nutritious and delicious promise, is the reason for the brand's success," said Greg Schwarz, Vice President of Marketing, Dean Foods. "It is an honor to be ranked so high on IRI's Pacesetter list – and among so many iconic brands. We are pleased to see such a strong consumer response to our brand at checkout. We are constantly striving to delight our consumers with new and better products. This accomplishment galvanizes us to accelerate our innovation efforts."