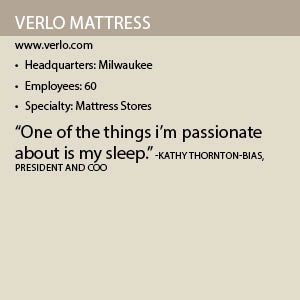 Proven Concept
Verlo was founded in 1958, when two men started making mattresses in their furniture store in Illinois. The mattresses were a huge hit, and when the two incorporated in Wisconsin in 1958 they combined the first names of both their wives, Verna and Lois, to create the new name of Verlo for their company.
The main concept was one that holds true today: Verlo builds individualized mattresses for each customer depending on their specialized needs. You can visit a Verlo mattress store, walk through your needs with a salesperson, or "comfort coach" as they are known, and ultimately find the mattress that best suits you. The idea is to educate the consumer and empower her to make a smart choice.
Verlo offers eight different collections, ranging from memory and gel foam to innerspring mattresses, in a wide range of price points. What's more, all mattresses are locally made in factories within Verlo stores.
"It's really not about mass producing mattresses," Thornton-Bias says. "What we've done instead is taken the best of factory craftsmanship and delivered that directly to consumers at a value price. There is no middleman."
Indeed, the focus is entirely on the customer. "In the past, I think a mattress company would say, 'Here you go, this one mattress solves all your problems,' and that just isn't true," Thornton-Bias notes. "With us, the objective is to help the consumer find the mattress that's right for her, based on her height, weight, comfort preferences, and whether there are any back troubles or recent health issues."
We know that life changes," Thornton-Bias continues, "and feel your mattress should too." To that end, Verlo also offers a Lifetime Comfort Guarantee so if a consumer's needs or preferences change, Verlo can adjust the firmness or softness of the mattress in their factory or in a designated Comfort Adjustment Room.
Verlo has a unique franchise model. Whereas a typical franchise operation would have a franchisee purchase or rent a store, with Verlo they are required to a) run a retail store where customers can select their mattresses, and b) run a small factory store where the mattresses are physically made and sold. There are no warehouses and distribution centers. And, if a franchisee wants to expand their operations, they can do so with a hub-and-spoke system where one factory serves several stores.
That system is what John Henry opted for. He owns three Verlo mattress stores in Beaver Dam, Portage, and Fond du Lac, Wis. "I'm a very hands-on person, so this model really played to my strengths," Henry says. He also likes attending to customers and walking them through all of the options in ordering a mattress. "When one looks at all of the options, it's almost infinity and beyond," Henry says. "Further, the support I get from the corporate level has been phenomenal."
Infrastructure Upgrades
The support that Henry refers to is a result of the 2012 purchase of Verlo Mattress by Marcus Investments LLC, a Marcus Family company based in Milwaukee. The Marcus Family is also a controlling stakeholder in The Marcus Corporation (NYSE:MCS), which has a portfolio of luxury hotels and resorts, so acquiring a mattress company was a natural fit.
Once acquired, the company was rigorous in upgrading the technology at Verlo. Now, for instance, when customers shop for a mattress, they can use an iPad to take Verlo's "Sleepography Quiz," to help in the selection of their mattress. Marcus Investments has also delivered on technology upgrades within the stores. Both point-of-sale software and an ERP system were recent technology investments, positioning the company for more growth.
Equally important, Marcus Investments has also invested in rolling out a new store concept. "It's really unlike any store you have ever seen," Thornton-Bias says. Mattresses are arranged in pods with half walls between the mattresses to provide more privacy for consumers trying out mattresses.
Technology advancements have also come to the products themselves. Verlo recently announced the release of SmartWake, the "world's smartest alarm clock." Essentially, a SmartWake sensor disc placed under a mattress monitors the sleeper's heart rate, breathing and movement. That trackable data is communicated via Bluetooth to a SmartWake app on the user's smartphone.
Using this data, the SmartWake app determines the best time to wake the person up within a selected alarm timeframe. The idea is to wake someone during a light sleep cycle, as opposed to a deep sleep cycle, which can cause grogginess.
Thornton-Bias says the future at Verlo is bright, especially when one considers every adult will likely need a mattress at one time or another. "For us, it's all about trying to evolve and differentiate ourselves," she notes. "And we aim to do that with our product, our service and our technology.
Now is the perfect time to become a Verlo Mattress franchisee, and take advantage of the growing demand in the sleep category, " continues Thornton-Bias. For information about franchising opportunities at Verlo Mattress and to join the sleep revolution, contact Kathy Thornton-Bias at kthorntonbias@verlo.com.