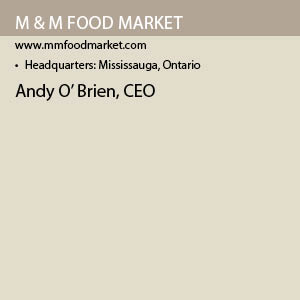 The equity firm conducted extensive research in an effort to make the brand more relevant to modern consumers. "We gathered deep consumer insight around the need for food not only for sustenance, but for lifestyles," O'Brien says. "Some nights, a person may want to eat light, while other nights they might want to indulge or entertain. We want to offer real food for real life – which includes meals tied to different kinds of occasions."
M&M Food Market last year completed overhauls to 30 of its stores, and is committed to renovating more than 60 locations this year. All locations are slated to be completed by 2020.
Product Changes
One of the first changes M&M Food Market made was to its name. Before the rebranding, the company was known as M&M Meat Shops. "Even our best customers didn't understand our full portfolio – we wanted everyone to understand that we do much more than just sell proteins," O'Brien says.
In addition to M&M Food Market's extensive meat selection, stores offer a variety of items including side dishes, single-serve meals, fruits and vegetables, sauces and seasonings, prepared meals, appetizers and desserts.
The packaging of every item offered at M&M has been updated to be more shopper-friendly. The all-white packaging previously used has been changed to full-color photography and a color-coded system, with each color representing a product category.
"We've also made sure our packages now have clear messaging and product information, so people can be clear about what they're buying," O'Brien says. "Previously, the inside of our stores was a sea of white boxes, which made for a difficult shopping experience. Now it's easier for someone to find their way around a store."
The company has changed many of its offerings. Roughly one-third of the products available in its stores are brand new, and several previously available, but low-selling, products have been discontinued.
As part of its new food commitment, more than 95 percent percent of M&M products have no artificial colors, flavors or sweeteners, as well as no added trans fats (partially hydrogenated oils). Roughly 94 percent of the seafood sourced by M&M meets its sustainability guidelines. The company intends to raise the percentage of products that meet its food commitment to 100 percent by the end of the year, O'Brien adds.
A New Experience
In addition to offering new and improved products, M&M has changed the placement of those products within its stores. "Our store experience required the most attention and the most amount of change," O'Brien says.
Stores were formerly organized around a butcher counter, behind the counter were the freezers and the menu boards. Store employees would take orders, grab products, and hand them to the customer. "This was great in the 1980 or 1990s, when people wanted that kind of service, but today people want productivity – standing in line behind two or three other people is not productive," he adds.
In the new store design, the counter has been removed to give people free access to the freezers and the products. Personalized service is still available in the form of M&M Meal Advisors, who can assist customers in meal planning. "Our advisors are there to help people when they want to be helped," O'Brien says, noting that meal advisors typically accompany customers through the store, offering one-on-one service.
The checkout and other areas of the stores are also now arranged to be more convenient. "We're not a big box – you can get in and out of our stores in 10 minutes or less," he adds, noting that M&M stores average 1,500 square feet in size and are located in neighborhoods.
'A Winning Design'
M&M Food Market worked closely with Shikatani Lacroix Design, a Toronto-based strategic design and branding agency, to develop its new retail look. "They helped us come up with a design we knew would work with our concept based on our business vision and consumer research," O'Brien says. "They came up with a winning design that worked for our business."
O'Brien calls the transformation process highly strategic. "The process was based on our vision of rebranding the business to bring it into the current day, which is driven by our five-year plan that clearly lays out our strategic needs," he says. "The rebranding has improved our business not just from a consumer sales standpoint, but also economically for our franchise partners."
The M&M Food Market rebranding is one of several projects O'Brien has worked on with Shikatani Lacroix. "They are a great agency that serves its clients well," he adds. "They will also tell their clients not what they want to hear, but what they need to hear – which is the best thing to do, and is why I like working with them."
Future Plans
M&M Food Market continues to make improvements to its overall operations. The company is installing a new POS system that will better allow it to know and react to customer preferences. Following the installation of the new POS system within the next 12 months, M&M also intends to launch a new consumer relationship management system that will include an updated loyal program.
Recently completed technology upgrades include the M&M "Click & Collect" online shopping tool, which enables customers to order products online and pick them up at their local store within two hours of ordering. The company intends to reduce its online order pickup lead time to one hour, O'Brien notes.
All of the M&M Food Market changes are being overseen and carried out by a head office staff that, like the stores themselves, has been significantly changed in the past few years. "Repositioning our brand started with retooling our head office, then improving all of our relationships with franchise, supply and financial partners," he adds.
The company's future plans include bringing M&M beyond the borders of Canada. "There is a need for this concept in just about every market in the world, and we're getting interest elsewhere," O'Brien says. "We want to expand internationally, which includes entering several core markets in the United States in the near future."