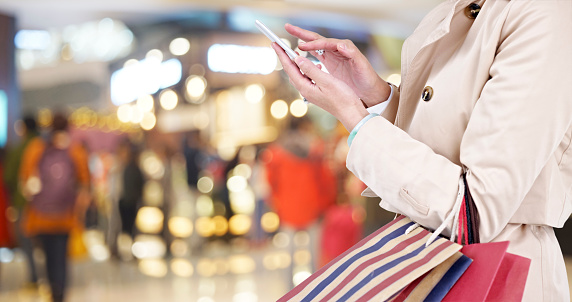 While the 2016 holiday season is one for the history books, it's the future that counts for retailers. By Aimee Koontz
The good news for America's retailers: We're still living in a material world. If sales reports continue their trend, the holiday 2016 period will go down in history as America's first trillion-dollar selling season, with Cyber Monday 2016 paving the way as the biggest single online shopping day in U.S. history. But the registers weren't ringing at the same rate for every retailer, and there are trends that can be gleaned for retailers across the physical and online landscape for 2017 and beyond.
Some of the trends that continue to dominate conversations and media coverage have become so obvious that they're really business-as-usual now. Consumers are addicted to mobile. Customers crave personalization. And shoppers enter a store armed with almost as much information as the associate on the floor.
So, to get to the really meaningful information that can help retailers identify where to shift their focus in 2017, we took a deeper dive into how consumers behaved and how retailers reacted. Here's what we found.
Channel Your Efforts
Consumers don't think in terms of channels. They think in terms of the brand, regardless of how or where they encounter it, and they expect the same experience across any channel that the brand uses.
Smart brands integrated all facets of their products and experiences throughout their channels, utilizing technologies like RFID to track inventory as a way to eliminate customer disappointment when products weren't available in a particular channel at a particular time. Brick-and-mortar locations served as distribution hubs, both to get products into customers' hands faster and to reduce shipping costs on the back end.
The 'Why' Before the 'Wow'
Technology has dramatically changed the operations side of the retail industry, and many retailers want to lay claim to being first to try the next big tech innovation. But ask yourself why before you try. If it's not going to drive loyalty and sales, then it might not be the best solution. The good news is that technology is coming out from behind the register to make physical stores smarter and give them an edge over their online counterparts. This holiday, artificial intelligence (AI) and machine learning were rooted firmly in many brands' marketing strategies. Branded chatbots provided customers with human-like interactions, supporting them through product search, recommendations and reviews, while more advanced chatbots engaged consumers with psychographic-based gifting solutions.
The proliferation of smartphone use during the shopping cycle now allows brands to connect with consumers in real time, taking concierge commerce to a new level. And technology-enabled platforms are primed to provide brands with new ways to connect and engage with consumers who are making greater use of smart assistants, connected and wearable devices and virtual reality headsets.
Open Your Wallet
Your mobile wallet, that is. A shopper's physical wallet contains more than just cash and credit cards, so your brand's mobile wallet also should be about more than payments. Shoppers are all about the speed of the journey, and one-click payments are the price of admission.
But "speed" for consumers really means "organization" – putting everything at the shopper's fingertips to save time through a simplified checkout process that supports payment methods, loyalty and rewards tracking in a mobile-friendly experience.
Play Offense, Not Defense
It's no longer enough to have prime retail space and a dazzling array of goods. The rise of online has blown up that model, so retailers need to start playing offense to keep pace with – or stay ahead of – online and alternative retailers. We saw a lot of retailers up their game this past holiday season to good effect.
Some retailers provided advance notifications of promotions to entice consumers and offered price matching to compete with online-only retailers. Member-only promotions also created the aura of exclusivity with insider pricing. And in a mash-up of the online and physical world, nearly two-thirds of consumers who purchased online during Thanksgiving weekend picked up their products in-store – and then also made an additional in-store purchase.
Several brands even created an innovative "e-gifting meets e-gift card" solution to engage last-minute shoppers. The e-gifting option enabled givers to select a proposed gift item for their recipient, and the recipient could accept the specific item, exchange it for something else or accept the value of the item on an e-gift card.
The coming years are shaping up to be even more competitive, with both brick-and-mortar and online merchants sharpening their selling skills. Smart retailers will put the customer at the center of the brand experience, enabling an immersive, simplified path to purchase for consumers and a strategic path to success for their own businesses.
Aimee Koontz, delivers the next generation of competitive advantage through marketing and loyalty thought leadership in her role as director, marketing & loyalty advancement for Alliance Data's card services business, a leading provider of tailored marketing and loyalty solutions for branded credit programs.