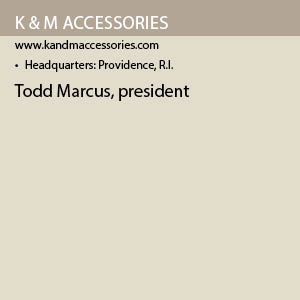 Design Culture
Clearly, the most vital component of K&M's success has been a very strong and cohesive design team. "Our design department is the strongest and most complete we have ever had and the absolute best in the industry," Marcus states. Indeed, the company is able to recruit from such renowned institutions as the nearby Rhode Island School of Design, Johnson & Wales University, and Rhode Island College, all located in Providence.
The company's design expertise extends well beyond the products themselves. As they see presentation critical to a stores sales it also designs corrugate displays, in-store fixtures and packaging to accompany its products. "For a company who used to primarily rack-job, we have come a long way," Marcus recalls. "A big part of what we do today is to collaborate with our retail partners in creating visuals of what the final product will look like merchandised in their stores."
In addition to a strong design culture, several other elements have contributed to a strong overall culture at K&M. "We're corporate, yet entrepreneurial," Marcus says. "While a lot of fashion companies seem to thrive on chaos, we want employees who are creative, but also have a head for the processes and operations necessary to compete in the industry.
"Decisions can't be made in a vacuum," Marcus continues. "Sso we want people to be entrepreneurial and accountable."
Strong Logistics Structure
For Marcus, though, the logistics process is equally important to the design process. "You have to be very good – you need a well-structured process in place to get mass quantity of goods moving efficiently from Asia [where K&M sources] to all of our customers in North America," he says. "In a sense, we are a logistics company that happens to be in the fashion accessories business."
To ensure that logistics run smoothly, K&M keeps roughly 35 of its 135 employees strategically stationed in 3 locations in Asia. That team is responsible for sourcing, inspecting and shipping upwards of 40 million units per year to the company's warehouse in Rhode Island and various customers around the globe. "Having a dedicated and capable staff overseas has been a huge difference-maker for us," Marcus says. "It has allowed us to seek out new and lower cost suppliers while maintaining complete quality control."
In addition to quality control in Asia, the company has recently invested in upgrades to its enterprise software, as well as its transportation management system. Both upgrades should continue to help K&M remain efficient with its logistics operations. "All of these upgrades have helped us meet our dual mandate: get the product to the customer on-time and with zero defects," Marcus notes.
Customer Service
K&M prides itself on the support of every customer and repays their support with a customer service oriented approach to sales. "Each of our Customer Service Associates are assigned to a specific customers so they become adept at the retailers unique needs and nuances" says Marcus. This, combined with a low-turnover rate, provides unmatched customer-service in the industry.
In fact, throughout all of K&M there is a customer first mentality. In the Planning & Analysis and IT Departments, the staff is connected to each customers EDI or unique data systems, allowing K&M to develop customized analysis tools for the Account Executive and Retail Buyer with the goal of maximizing sales. In Operations, they obsess over complying with every aspect of a customer's shipping and labeling requirements. "We exist to serve our customers and repeatedly communicate this philosophy to the entire organization," adds Marcus.
Strong Partners
Although a strong culture has helped the company thrive, it also has several long-standing relationships that give it tremendous prospects for growth. It has been a licensee for Guess for more than 15 years, and partnered with Elie Tahari for nearly eight years.
One of K&M's fastest growing brands is Jessica McClintock. K&M began designing jewelry and various prom and bridal accessories for Jessica just over 2 years ago, and strongly believes there is significant potential for more growth. In fact, K&M recently signed a license to develop and launch watches under the Jessica McClintock name, leveraging its relationships and expertise in the accessories market.
In addition to the strong group of licensing partners it designs and manufactures for, K&M also benefits from a diverse, consistent group of loyal retail customers. This includes stores such as Macy's, Walmart, Online retailers, Dollar Stores, Off-Price retailers and even duty-free travel stores.
That diverse range of retail partners leaves several options for growth. "I'd say we have two focuses: expanding into new departments within our existing customer base, and focusing on a few key new customers," Marcus states.
With a strong culture and steady partnerships in place, Marcus sees a company that will continue to stay hungry. "We think both long-term in terms of strategy but we also think short term and are able to strike quickly," Marcus says. "We plan for the future, but react to today." And he does that with a smart, talented team. "I want our people to form a culture that is hungry for success," he says.