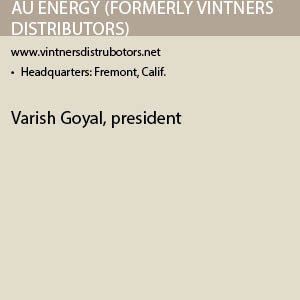 Goyal credits the company's success to the people working in the stores. Finding strong team members has been a continuous challenge for Au Energy but it is constantly working on making every store a great place to work. "Our team members ensure every store is clean, well stocked and comfortable, which are all important factors in making the experience better for customers," he says. "You have to do that across the board. To bring the level up higher, it's through the appearance, the product mix you have, the offering and how you handle issues that occur when customers are not happy."
Au Energy is a family business, and it tries to maintain a family-like culture in the workplace. Goyal says it wants team members to feel like they're part of his family through helping them manage a positive work/life balance. "We really want to be one of the best places in the country to work," he continues. "We have to create a culture around growth and improvement. The skillsets required to be a team member with us can be used across many industries. This is a place you'll always remember that helped you get better at whatever you do in the future. We build it around family, growth, self-improvement and improving you and your family."
Fresh Concept
Since its success and after its large acquisition in 2010, Au Energy has embarked on a new path to flip the switch on the typical convenience store experience. People typically come to the Shell-branded V locations for fuel and may or may not purchase a snack or soda at the convenience store.
"We wanted something unconventional and had a strategy session to figure out our strengths and weaknesses in the market," Goyal says. "We thought about the Taj Mahal – let's build the best convenience store ever. But then looking at the costs of something like that, we pared it down to something more realistic. Through that process, we came up with Loop."
Au Energy opened its first Loop location in 2013. Loop is now at 23 of its locations with plans to build six new ones every year. "We're trying to change the script and give consumers a lot of options to come inside and make it the destination rather than the fuel," Goyal continues. "We've gotten lot better at product selection and mix and finding items that sell."
Loop is designed to be more modern and brighter, with lower gondolas for easier shopping. Additionally, the product mix is more health-focused, rather than the traditional convenience store chips and cookies. Goyal describes it as a cross between a Whole Foods and a convenience store. Loop sells a variety of waters and drinks, including kombucha and chia drinks, kale chips, nuts and other healthy snack items. It provides high-quality espresso machines, salad bars and frozen yogurt.
"The big focus was to differentiate ourselves to things we couldn't offer in traditional convenience store," Goyal notes. "I think our Loop's are still too traditional, and we want to scale that up to even higher-quality, affordable goods."
As it opens more Loop stores, Au Energy is focused on improving the customer experience by launching a loyalty program and mobile app. The company wants customers to find shopping at its stores and engaging with the brand both easy and fun.
"Our next phase of IT is how do we use technology to improve customer's experience," Goyal says. "We've done a lot for our operations and staff, now we want to make it more pleasant for our customers. We've made our operations more efficient, which allowed us to have better control over the products that go in the store. Teams can focus more on customer service than being in the back office, making sure everything is appropriate and balanced. It's allowed our teams to focus on being better operators and providing better service."
Goyal looks forward to continuing to develop the Loop brand, building more sites and getting the word out. He hopes that customers come to Au Energy store for more than just fuel – Goyal hopes the food becomes the main business driver.
"I'm really hoping that what we do will make the store a destination," he says. "But I'm most proud of the fact that we continue to progress in our business. Whether through new store rebuilds or employee engagement, among other things, the team is constantly moving the company in the right direction. We never sit back and think things are just fine. We constantly seem to come up with ways to stay ahead of the curve. We hope people will be playing catch up to us."