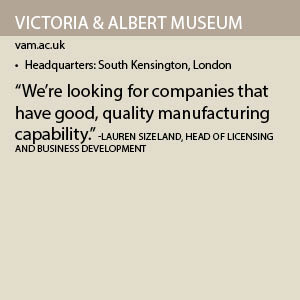 Profits from the Exhibition were used to establish the Museum of Manufactures, as the V&A was initially known, and exhibits were purchased to form the basis of its collections. "It was an attempt to educate the public's taste by showing the best of British manufactured goods," Amelia says. "It's something that we still try to do in our collections."
Last year, 3.9 million visitors, including enthusiasts and scholars, passed through the Museum's doors. "It's just a beautiful location to visit," she says.
Sources of Inspiration
The V&A began its licensing program in the 1990s, and several of its licensees have worked with the Museum for the past two decades, Lauren Sizeland says. "We work in many different categories across the program, through interiors, furnishings and beddings [to] housewares and kitchen textiles," she says.
Its categories also include apparel, jewelry, stationery and wall art.
The V&A continually looks at different parts of its archive and how it can package its contents in ways that are relevant. For example, the Museum has drawn from textiles for its licensed products, as well as its national collection of photography. "That includes a whole variety of social and fashion photography," Lauren notes.
The Right Ones
Not surprisingly, the V&A takes great care in choosing licensees. "We're looking for companies that have good, quality manufacturing capability," Lauren says, adding that design capability also is essential. "The scale of how patterns are applied to our products is really important."
The licensees also have to be willing to collaborate. "It always helps if they have some experience of licensing in the past," Lauren says. "They understand that they can't go off and do their own thing."
This requires a close relationship between the two parties. "We work with them on a custom design basis to meet their objectives for their products and their ranges," she says. "But we also need to retain the integrity of the original object or piece from the archive that's being reproduced."
The V&A's licensing team, Lauren adds, has experience developing those kinds of relationships with licensees in Japan and the United States, whose representatives have paid visits to the Museum. "Having that flexibility and that capacity to come to the V&A from time to time is important," she says.
Ready for Launch
The V&A is close to the release of a line of licensed paints from Master Paintmakers, a manufacturer based in Stratford-upon-Avon, United Kingdom. "We've been working [on it] for almost three years," Lauren says. "We're very excited about that because it launches in April."
The development process has been a demanding one. "It's taken us a long time to perfect the palette that we've chosen," Lauren says. "The paint has gone through a very robust and rigorous quality checking [process] and blind testing."
The paint also represents a departure for the V&A. "It is probably one of the few projects where it's not about pattern, but it's about color," she says. "It has been very unusual for us."
But the hard work has paid off. "We know from the blind test that it's the highest-quality domestic and interior paint in the market," Lauren says, noting that Amelia worked many hours developing the 40 colors that were inspired by the Museum.
Highlights from the 40 strong color palette will include Reuben Red, a rich Victorian red echoing colors used in Victorian soft furnishings and named after Reuben Townroe, who worked on architectural decorations for the Museum. Owen's Teal is a rich sea-green, taken from designer Owen Jones's original decorations for the Museum's early Indian, Chinese and Japanese Rooms, considered 2017's on-trend color for homes.
"They all take reference from the original designs for the Museum," Amelia says, noting that V&A is fortunate to have those designs in its archives. "Once you visit the Museum, you realize it's a work of art in itself."
The V&A also looks forward to the introduction of several quilting fabrics from Moda Fabrics/United Notions, based in Dallas. "We're launching a range of William Morris designs at the Quilting Expo in May [in St. Louis]," Lauren says, noting that it will introduce 40 different SKUs made from high-quality cotton.
"They're just very beautiful and the color coordination is excellent," she says, adding that the line reflects the Museum's values. "The V&A is very keen to encourage handicraft and handmade things, and this is a good example of that."
Sharing the Archive
Lauren and Amelia are proud of how the V&A has improved its relationships with licensees over the last five years. In the past, Lauren explains, it was challenging for licensees to pin down what was a good fit for their products.
But the Licensing team has partnered with a trend agency to help licensees to find the right matches. "Now we can package and put together themes that the licensees can draw from," Lauren says.
This gives licensees different styles to work from one season to the next. Lauren notes that these can range from European designs to those from the Middle East. "We work with them and ensure the scale of the pattern is absolutely appropriate for the product it's applied to," she says.
For example, the Museum is preparing a major exhibition of ocean liners in collaboration with The Peabody Essex Museum in Salem, Mass. "We are tapping into the golden age of travel," she says, noting that the V&A will display its collection of textiles, furniture, flatware and evening ensembles from the 1920s and 1930s.
"Those can be applied to a wide variety of companies and their products," Lauren says, naming manufacturers of furnishing fabrics, rugs and travel accessories as examples. "We can provide ideas and inspiration from our archives. "The licensees are getting what they want," she says. "It's also enabling us to share the archive with consumers in a way that we think is beautiful and carefully thought through."
The V&A plans to explore new categories for products as well as new territories, Lauren says. "For example, in Korea, we have two licensees at the moment, with one in bedding and one in jewelry," she says. "We're also hoping we can expand in fashion, apparel and more table-top ceramics."
The Museum also is developing a relationship with a licensee in China. "We're hoping we can build a program there, so we'll be looking for the right agent to look at that territory," she says.