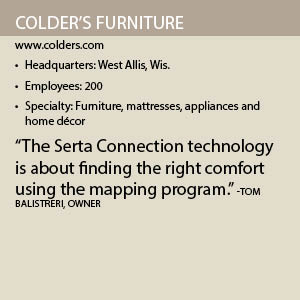 The Felkers sold and delivered freezers to neighborhoods throughout Milwaukee, where they would eventually open their first retail store. In the 1950s, Colder's added washers, dryers and ovens to its appliance selection, as well as two additional locations later that decade. Colder's continued to expand its product lines in the 1960s to include kitchen dinette sets and household furniture. "We have partnered with great brands, which helps us with our success at the point-of-sale and also in our marketing," Balistreri says. "Not only do we have a rich history, we are always looking in history, but looking forward in order to be relevant and cutting-edge to meet today's customers' needs."
The Serta Connection
As the largest Serta-only retailer in the country, Colder's has had the opportunity to implement the cutting-edge Serta Connection technology. Selling only one brand allows its sales team to become experts. Colder's was one of the first to implement the Serta Connection to improve the mattress-buying experience for the consumer.
The Serta Connection uses cutting-edge technology to help consumers find a mattress that fits their body type and sleep positions. The consumer begins their mattress-buying journey in Serta's proprietary "comfortpoint" theater where they lie down and are fitted for their pillow from a nearby pillow bar, finding the best one suited to their sleep position.
Comfort preferences for the mattress are then determined. The salesperson varies the comfort level on the Serta "comfortpoint discovery system" by using adjustable air chambers to change the feel. An overhead display shows real-time pressure-mapping profiles of the consumer's body.
"The Serta Connection technology is about finding the right comfort using the mapping program," Balistreri adds. "The consumer has a more of an accurate selection process."
The pressure-mapping profile shows pressure circles on an outline of the consumer's body, indicating where they exert the most pressure across the mattress. Customers are asked additional questions regarding their sleeping habits and provided with personalized results.
Colder's salespeople will continue to help consumers by showing them which mattresses best fit their sleeping habits. "The Serta Connection narrows down the choices and makes the buying experience much more pleasant and engaging for the consumer and salesperson," Balistreri says.
"Since the rollout in spring 2016, we have been extremely pleased on several levels," he adds. "Our goal has always been to get the customer into the right comfort level and this technology really helps us accomplish this. This system technology takes the subjectivity out of the process and makes the decision much more scientific, thus validating the customer selection."
Colder's 200 employees' No.1 focus is to take care of the customer. "We train our customer service and salespeople that everything revolves around the customer," Balistreri says. "Everything is customer-centric, including our policies and procedures."
Continuous Improvement
In celebration of its 75th anniversary, Colder's is focused this year on remodeling and updating its showrooms with new paint, carpet and flooring, and LED lighting. "We recognize that we need to continually improve our presentations and within our facilities," Balistreri explains. "We have been on a campaign to systematically rework all four locations to better meet today's customers' needs. We need to keep them fresh."
Colder's will place more emphasis on its digital marketing efforts this year to complement its television and radio advertising, and along with its website. "Digital marketing is important to reach younger and millennial customers shopping online," Balistreri says. We need to be relevant and where our customers are."