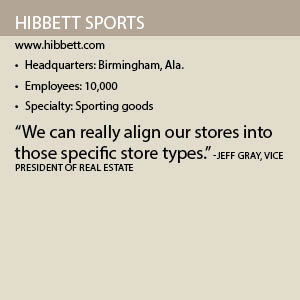 In addition to Nike and Under Armour, Hibbett Sports features a full lineup of products from well-known companies such as adidas, Reebok, Oakley, Columbia, New Balance and Northface, among others. In many cases, Hibbett Sports is the only outlet in town for major brands.
"The majority of our stores are in markets with one or [no] competitor," Gray says. Being the only retailer that sells sporting goods in a particular area gives Hibbett Sports negotiating power with brands. The company leverages those relationships to secure exclusive products and better allocations.
National Reach
Rufus Hibbett founded the company in 1945 as Dixie Supply Co., a marine equipment and small aircraft retailer. It wasn't until four years later that Dixie Supply began selling athletic equipment and team sports merchandise.
Hibbett's sons joined the business in 1952 and the company's name changed to Hibbett & Sons to reflect the family ownership. The stores remained focused on team merchandise until the 1980s when the renamed Hibbett Sports began expanding to strip centers and malls and transformed into a more traditional sporting goods retailer.
Today, Hibbett Sports operates about 1,080 stores in 35 states. Most locations are found within the Sun Belt, but the company is working to enter new markets. In 2016, Hibbett opened its first two stores in California and plans to open another four to six stores in the Golden State by the middle of this year. At that point, the company will evaluate its progress and determine the best path to fully enter the California market.
To stay relevant to its customers, Hibbett Sports continually reinvests in its stores. The company is in the midst of a large remodeling project that saw 50 stores overhauled in 2015 and 60 in 2016. The remodeling was an opportunity to freshen the look of the locations with upgraded carpeting and light fixtures and also to change floor plans to create better customer flow around products.
Although Hibbett Sports is a national brand, each store is designed to fit the local market. Depending on customer demographics and surrounding tenants, stores can lean toward a fashion or equipment focus. "We can really align our stores into those specific store types," Gray says.
Expanding Strategy
Hibbett Sports opened 65 stores in 2016 and expects to add another 50 locations each year going forward. Ultimately, the company wants to reach 1,500 stores and then set its eyes on the next level of opportunities. Hitting that goal will require Hibbett Sports to expand its market.
Although the company has been long associated with small communities, it has begun to branch out by opening stores in larger markets such as Dallas, Nashville, Tenn., and Jacksonville, Fla. Hibbett Sports also will expand to more states and plans to open its first stores in Michigan and Wyoming later this year.
Before opening in a new market or adding another location, Hibbett Sports conducts a thorough analysis of the area to determine the best ways to position the store to succeed. An in-house real estate team of seven people is tasked with identifying potential sites and working with mall owners to negotiate a lease.
The kinds of locations Hibbett Sports is growing into have changed somewhat since the Great Recession. The majority of the company's openings used to coincide with the construction of new shopping centers, but as the economy recovers developers are largely still hesitant to build malls. The lack of new building forced Hibbett Sports to adjust its strategy and the company now primarily works with mall owners to fill vacant space in existing shopping centers.
Opening Up Online
Hibbett Sports has always sought new methods to better interact with customers and drive loyalty. The company a few years ago introduced its MVP Rewards system to allow consumers to earn points and receive gift certificates and offers based on purchases. Hibbett Sports has used the program to track customer trends and Gray says the data will help as it makes the next leap to online sales.
Like in the rest of the retail industry, buyers of sporting goods and athletic wear are changing their shopping habits. Hibbett Sports only recently introduced an ecommerce platform and continues to add features and conveniences customers want. A new service option which allows the customer to come in the store request an item and pick-up in store is now available at 200 locations and Hibbett Sports expects to roll it out companywide early this year. Also an online order option with at-home delivery will be available by year end. "It's really trying to figure out ways to utilize that to increase sales but also drive customers into our store using that [online]," Gray says.