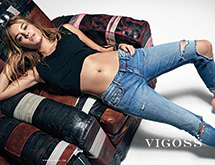 Since its start in 2002, Vigoss USA has established itself has a well-known force in the world of denim, CEO and founder David Kubresi says. Today, the company is proud that retailers such as Nordstrom and Maurices carry its denim products.
Based in New York City, Vigoss USA's denim products include, but are not limited to jeans, skirts, shorts and maternity wear. When Kubresi started the company, he chose its specialty based on how lucrative it could be with American consumers.
"One of the things I was debating [was whether] to get into athletic footwear or get into the denim products," he recalls, noting that he ultimately chose denim, due to its popularity in the marketplace.
"I noticed right away on the streets, subways, restaurants … everyone wears jeans," Kubresi explained to DenimBlog in an interview. "Denim is such an integral part of the way we dress, no matter what age."
The name for the company had a family connection. "I wanted to name Vigoss after my brother – his nickname is 'Vigo,'" he explained to the blog. "We played with the name until deciding on Vigoss."
Authentic Vigoss
As Kubresi developed Vigoss USA's products, he focused on the weave and wash aspects, resulting in a premium product of unique and excellent quality. The company also develops its own denim fabric and uses 100 percent U.S. cotton.
Quality remains Kubresi's focus as Vigoss USA manufactures products that are affordable and available to consumers for less than $100. In addition, the company offers several different styles, including skinny, bootcut and the "tomboy," which are its top sellers. "They are offered in many different washes, rises, and with or without distressing," President of Sales Erika Shulman adds.
Vigoss USA's products also are distinguished in the crowded world of denim by its "V" signature, which represents the "DNA" of the brand, she says. Depending on the pair of jeans, "It could be an embroidered 'V' or it could be embellished with rhinestones or studs," she says. "The 'V' lets you know the denim is Vigoss."
The company also spent time developing its fits so many body types can wear them. "Most women are looking for jeans with the perfect fit when shopping," she told The Huffington Post. "Our fit created specifically for women has set us apart in the marketplace."
Not only are Vigoss USA's products available in major department stores across the country, they can be found in many mom-and-pop stores. "We cover all the angles," Kubresi says.
"Some of our biggest territories are in the Midwest, Northwest and Southeast," Shulman adds. "We also have a thriving dot-com business."
Completely Vertical
Vigoss USA distinguishes itself from competitors in the industry through the quality control at its factory operations, Kubresi says. "[On] day one, I set up an operation that is completely vertical," he recalls.
"We have a complete 'a' to 'z' operation," he says, noting that Vigoss spins its own yarn and weaves its own fabric, as well as does its own packing and labeling. "That's what makes me very competitive in the marketplace [and able to deliver] top quality at the best price."
Making Connections
The company has been very progressive when it comes to its retail presence, offering strong customer service with free shipping and returns. More recently, social media has become critical for the company.
Shulman says Facebook and Instagram allow the firm to reach its customers quickly and build personal relationships with fans.
"Companies are now evaluated based on their social media profiles," she told the Huffington Post. "Anybody entering the industry today needs to have a firm understanding of the social media landscape."
Shulman added that social media also allows Vigoss to tap into its market and learn more about its customers.
"We are able to share news, preview upcoming products and receive immediate feedback from our customers," she said.
The Next Level
Vigoss USA has prospered with its marketing campaigns. Over the past four years, the company's promotions have featured several prominent spokesmodels, including Sky Ferreira, Irina Shayk and Camille Rose.
Another key player in the marketing is Head Stylist Melanie Ward, Shulman adds. "She styles all of our campaigns," she says, noting that Vigoss USA's campaigns have appeared in magazines such as InStyle and Nylon.
The company also has hired Buero New York, a New York City-based boutique design agency "They do campaigns for Dolce & Gabbana," Shulman says. "David went out and hired [them] to take Vigoss to the next level."
That next level will find Vigoss USA becoming "more of a lifestyle brand," Shulman says, noting that the company could make the move into footwear. "We also have a kids' license for girls that does two to 16 sizes."
Branching Out
Vigoss USA is looking forward to its continued evolution, Kubresi says. "We hope in the near future to open our own retail [locations] in the United States," he says.
Although it may be three to four years before those stores open, Vigoss USA already has regions in mind. "We would like to target Middle America, [as well as open] some stores on the East Coast," he says.
Currently, specialty stores are a major focus and strategy for Vigoss, Shulman adds. "By getting our product into more doors, we will reach our consumers in small towns who don't live close to department stores, and expose our brand name more," she says, noting that the company also will increase its appearances at trade shows.