Voting Underway for LIMA International Licensing Excellence Awards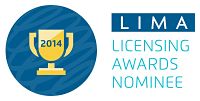 May 1, 2014 – The ballot for the International Licensing Industry Merchandisers' Association's (LIMA) hotly-anticipated 2014 International Licensing Excellence Awards competition is now set – and it features a record 118 nominees in 20 categories from across the licensing, retailing, promotion, and consumer products arenas. LIMA members may cast their votes online here through Wednesday, May 14. The winners will be announced at the LIMA Opening Night Awards Ceremony on Tuesday, June 17, during Licensing Expo 2014 in Las Vegas.
This year's nominating season was the biggest ever, with a total of 360 entries, a 36% increase from 2013. Nominations came in from 16 countries, including first-time nominees from India and Korea.
The 2014 ballot introduces two new categories, Digital/New Media and Location-Based or Experiential Initiatives, and makes Celebrity licensing a classification of its own, separate from Film and Television.
The other categories in which awards will be presented are Character or Toy Brand; Art or Design; Sports or Sports-Themed Entertainment; Corporate Brand; Film, Television or Entertainment; Retailer of the Year; and Best Licensed Promotion.
In addition, an award for Overall Best Licensed Program, representing each of the major property classifications, will honor one of these nominees:
OVERALL BEST LICENSED PROGRAM
· Angry Birds Star Wars – Rovio Entertainment Ltd. & Lucasfilm Ltd.
· Dena – Dena Designs, Inc.
· Doctor Who – BBC/ BBC Worldwide Americas
· Duck Dynasty – A+E Networks/Brandgenuity
· Monster High – Mattel, Inc.
· One Direction – Global Merchandising Services Ltd.
· PGA Tour – PGA Tour/IMG Worldwide
· Stanley Black & Decker – Stanley Black & Decker/Beanstalk
"This year's awards nominees represent a diverse and creative cross-section of the licensing business that has entertained and delighted consumers with product, promotions and activities true to their brands," said LIMA President Charles Riotto. "The LIMA International Licensing Excellence Awards program was designed to honor the achievements of the best, most innovative programs in our industry and I am excited about both the record number of submissions and the breadth of this year's nominees."
Nominations were solicited from the worldwide licensing industry. Click here for a complete list of the 2014 Awards nominees.