Walgreens, Roush Fenway Staging "Race Around America"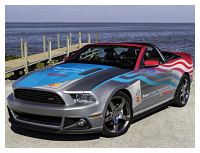 March 5, 2014 – Walgreens and Roush Fenway Racing have launched a partnership to stage "The Race Around America" Interactive Promotion Presented by Balance Financial Prepaid MasterCard from Walgreens. The multi-faceted campaign will be fueled by fan interaction, and will culminate with the awarding of the grand prize: the fully-enhanced ROUSH Stage 3 Mustang used in the promotion by Roush Fenway drivers.
By registering their cards for the promotion, Balance Financial Card cardholders will be entered in the sweepstakes portion of the promotion. Cardholders can earn additional automatic entries – up to five times per day – by making a purchase or reloading their Balance Financial Cards. Consumers can enter between Feb. 23 and Oct. 15, 2014. Legal residents of the 50 United States (D.C.), 18 years of age and older are eligible to enter.
Throughout the promotion, Roush Fenway Racing drivers Greg Biffle, Ryan Reed, Trevor Bayne and Chris Buescher will drive the Mustang from a concluding NASCAR race city to the next, making pit stops to meet with fans along the way. Webisodes from the drivers' journeys will be produced, as well, posted at www.Walgreens.com/RaceAroundAmerica.
Fans have already dictated the Mustang's design to be used during the promotion through online voting, selecting a patriotic design scheme as the fan favorite. The design represents an American iconic symbol – the American flag – in a nontraditional depiction. Smooth gradients starting at the sharp tip of the hood line of this great American muscle car gives a look of momentum and speed. When the promotion is over, the design will be removed and the winner will receive a bright red ROUSH Stage 3 Mustang.
"The eye-catching design reflects the patriotism for which NASCAR fans are well known, and we are proud that our Race Around America Mustang will sport red, white and blue, so fitting for one of America's greatest auto brands," said John Schmidtke, Manager, Walgreens Loyalty Marketing.