Walgreens to Help Provide Up to 3 Million Life-Saving Vaccines for Children Through Donation to United Nations Foundation's Shot@Life Campaign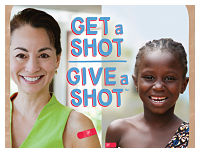 September 4, 2013 – Building upon its efforts to provide greater access to vaccines and other health care services for populations in need, Walgreens is partnering with the United Nations Foundation this flu season, to help provide up to 3 million life-saving vaccines to children in developing countries through a donation to the Foundation's Shot@Life campaign.
Walgreens customers have an opportunity to play an integral role in the cause. Now through Oct. 14, for every vaccine administered at any Walgreens pharmacy, Healthcare Clinic at select Walgreens or Duane Reade pharmacy in New York, Walgreens will donate the value of a life-saving vaccine, primarily those for polio and measles, through Shot@Life – up to 3 million vaccines. Statistics show 1 in 5 children worldwide lack access to life-saving immunizations, and a child dies every 20 seconds from a vaccine-preventable disease.
"We've developed a number of innovative programs and public-private partnerships through which we've helped improve immunization rates in medically underserved areas, and among other targeted populations in need across the U.S.," said Harry Leider, M.D., Walgreens chief medical officer. "With the growing need for life-saving vaccines such as polio and measles in developing countries, we're proud to work with the UN Foundation on this important cause that provides access to vaccine for children in need, creates greater awareness and furthers our mission to help people get, stay and live well."
Shot@Life is a movement to protect children worldwide by providing life-saving vaccines where they are needed most. The campaign is focused on educating and empowering Americans to support and advocate for decreasing vaccine-preventable childhood deaths while giving children around the world a shot at a healthy life.
"Walgreens' generous donation will help save lives, while creating a greater awareness of the need to make vaccines available to parents around the world who want to protect their children from preventable diseases," said Kathy Calvin, president and chief executive officer of the United Nations Foundation. "Vaccines are one of the most cost-effective ways to save and improve the lives of children in developing countries by protecting them from life-threatening diseases."