L.L.Bean Helps Support the Spirit of Boston with Limited Edition One Fund Boston Totes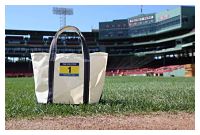 September 3, 2013 – Two of New England's greatest icons have come together to give baseball fans the chance to own a piece of Fenway Park and L.L.Bean history. L.L.Bean has introduced The One Fund Boston Tote made from the tarp used to protect the Fenway Park infield during its 100th anniversary in 2012. This limited edition version of the company's signature tote celebrates the spirit of Boston and its people, with 100% of the profits going to The One Fund Boston.
Handcrafted in Maine, the tote is constructed from repurposed Fenway Park tarp and trimmed with blue handles. Each tote features a patch with the signature blue and yellow The One Fund Boston logo, as well as an interior pocket that includes the logo and a brief narrative about the bag's origins and how it supports the Boston community. To learn more about The One Fund Boston Totes and see how they are made visit the L.L.Bean YouTube page.
"We are pleased to partner with L.L.Bean as they create this unique way to raise funds for the victims of the terrible tragedy that took place on Patriot's Day," said Troup Parkinson, Red Sox Senior Vice President. "Fenway Park acted as a place of healing for the community after those horrible events and we look forward to working with L.L.Bean to continue to support those most affected."
Only 3,500 totes have been produced, and they will be available starting at 9:00 a.m. on Friday, September 6. The totes will be for sale at select retail stores including the flagship L.L.Bean store in Freeport, Maine as well as the Massachusetts L.L.Bean stores in Burlington, Dedham and Mansfield. Available to purchase for $49.00, all profits will go directly to The One Fund Boston.
"L.L.Bean has called New England home for over 100 years, and our thoughts are with all those affected by the events at the Boston Marathon in April. We're proud to support the Boston community by donating profits from these totes to The One Fund Boston," said Steve Fuller, Chief Marketing Officer for L.L.Bean. "Straight from Fenway Park to our production facilities, each tote will be as unique and authentic as Boston is."