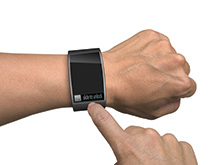 From smart watches to FitBits, the use of wearable technology is becoming a standard practice for everyday life. Business Insider estimates the global wearables market will grow at an annual rate of 35 percent over the next five years.
Gartner, however, noticed a temporary dip in wearable tech this year, with units down to 68.1 million from 70 million in 2014. It reasons that this is driven by the overlap in functionality between smart watches and fitness bands – people don't want to have two wearables that do almost the exact same thing. But Gartner predicts wearables will bounce back next year thanks to more versatile designs emerging and lower-cost products becoming available.
Wearables come in a number of different categories besides fitness and watches and also include infotainment products like Google Glass, healthcare products like continuous glucose monitors and military/industrial products such as hand-worn terminals. More consumers are finding the convenience of working more or less hands-free extremely appealing.
While most smart watches still require a nearby cell phone to work, users can have their phone safely tucked away in a bag and answer calls, text messages and e-mails from the convenience of their wrist. Thanks to this, smart watches will continue to dominate the wearable tech category, accounting for 59 percent of wearable device sales this year, according to Business Insider.
Now that wearable tech has been around for a while, some are looking to kick it up a notch by adding fashion to its functionality. Designer brands jumping into this niche market can target consumers who are up on the latest trends in both fashion and technology, reaching an even broader scope.
For example, I wear a Jawbone UP fitness tracker on a black band. It's boring and not at all glamorous. But online accessory retailer Bauble Bar recently partnered with Jawbone on a line of bracelets specially fit for the Jawbone UP to disguise the tracker in a square, bejeweled clip. It is available in gold, silver or rose gold on a plum, black, teal, blue or gold wristwatch-style band. Unfortunately, the rose gold version sold out the same day it was released before I could even order it. Fitness-focused fashionistas clearly want a more stylish way to track their goals.
Other brands and retailers are jumping on this trend as well such as Diane Von Furstenberg's Made for Google Glass Eyewear, Rebecca Minkoff's Couture Chargers and Tech Bracelets, Ralph Lauren Polo Tech Shirt and Tory Burch's FitBit accessories. Linking fashion and tech together is a great strategy for sales. Wearable tech is not cheap and I doubt the branded accessories are either.
Gartner predicts that the smart clothing category has the highest potential for growth because the category is emerging from the testing phase with more products released every day. Smart garment shipments are forecast to grow from 0.1 million units in 2014 to 26 million units in 2016.
It's safe to say that wearable tech isn't going anywhere and that companies will continue to innovate new products while the demand remains high. It's possible that in another five or 10 years, we won't even need a cell phone and that everything we need will be part of our shirt or a bracelet or glasses.