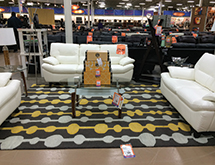 From the outside looking in, Weekends Only has been a Friday-to-Sunday operation. The home furniture outlet was founded 16 years ago with a simple but unique concept focused on saving its customers money. Its team of buyers scours the globe looking for exceptional furniture deals – closeouts, overstocks and one-of-a-kind items – to offer customers high value at low prices.
It lowers that price even more by running a lean operation focused on taking waste out of the company. Its most notable move in that effort? Opening its brick-and-mortar stores only on weekends when most people shop for furniture. To prepare its five Midwest stores for the weekend crowd, however, takes much more work than can be done in three days. Which means internally, Weekends Only has always been a seven-days-a-week business.
"Our company mission is to save the customers money," COO Dionne Dumitru says. "The way we do that is only opening Friday through Sunday. But the supply chain works seven days a week running with skeleton crews on weekdays. We're bringing things on the floor and taking things off the floor. We spend every day looking for opportunity buys to find amazing deals 52 weeks out of the year."
With a recently launched e-commerce site, Weekends Only has taken its three-days-a-week retail operation and opened it up to Monday through Thursday, as well. The nine-month project launched in the fourth quarter of last year, allowing customers to purchase furniture online available for pick up in the store or for delivery. Although the company had operated a website for viewing merchandise since 2010, it knew it needed a different platform to integrate with its existing systems and allow for online purchasing. Weekends Only selected a software system created by ShopVisible.
Engaging E-Commerce
"The challenge was integrating our system with e-commerce and making sure when we made a commitment to the customer on the Web, that it was the same type of commitment we would make if they were standing inside our stores," Dumitru says. "We needed real-time availability and ability to make sales reservations immediately so that we didn't disappoint customers in the stores or on the Web."
It also needed a system that could handle its quick-changing inventory. Rather than a traditional furniture store that turns over merchandise once every quarter, Weekends Only has a constant rotation of new deals coming in. Also, its stores' layouts are more akin to a big-box home improvement store rather than the average furniture store. Instead of organizing furniture by displays, merchandise is set up in categories – coffee tables here and dressers over there – to make for easier shopping and turnover of products. Its e-commerce site had to accommodate for that.
Customers can browse products in-stock by category filters. The site also provides more control over product and inventory feeds on the back-end, which is a critical need for Weekends Only considering its fast-changing assortment of products. Though the customized platform has been operating for only a few months, Weekends Only is already seeing benefits:
•A 26 percent increase in site visits
•A 4 percent increase in average duration of customers' site visits
•A 14 percent decrease in page load times
•Real-time visibility into inventory levels that allow customers to purchase or reserve products for delivery or pick-up in one of the stores or on their own
"E-commerce offers customers Weekends Only value all week long, allowing us to provide greater service while continuing to save every customer money," Dumitru says. "Teaming with ShopVisible, we were able to provide an end-to-end technology solution that has been remarkably robust. Our customers are voting for this complementary channel by continuing to increase their purchases and basket size."
Tis the Season
The e-commerce site was launched just in time for the retail furniture industry's busy season. Although most retailers – such as clothing, toy and electronics shops – enjoy a significant boost in sales during the fourth-quarter holiday season, furniture stores get a sizeable revenue increase coinciding with tax season.
"The first quarter is tax refund time and furniture is a purchase that a lot of people save up for and they don't necessarily want to purchase on credit cards. Sometimes they just want to pay for it," Dumitru says. "So it's like a light switch for us. As soon as the IRS starts accepting tax returns, it's like we get besieged. This past week [in February] we doubled our sales because of the season, which means operationally we have to double capacity in logistics, in receiving stores, in staffing in-home delivery – all of it. We have to manage all of that to make sure we're there to meet the customers' needs because customers have choices and if we don't seize the moment, they will walk away from us."
Weekends Only ensures it has the capacity internally but also externally to handle changes in demand. The company teams with valued and like-minded supply chain partners, from Dino's Logistics, an asset-based 3PL, to the last-mile home delivery company 3PD.
"For anyone who's ever moved, you learn that furniture doesn't travel well," Dumitru says. "With our partners, we have to solve dual supply chain problems based on product flow and handling. Like us, our partners must be able to scale up dramatically with the seasonality of our business. Furniture is bulky, and scaling up is resource-intensive. As we open up the channel volume, we also ratchet up the speed of every transaction. Lead-times are shortened, and we have to respond quickly to daily changes in flow. Because moving furniture still relies on manual handling, being able to satisfy the customer requires great care in how we handle her furniture all along its path from the manufacturer to her home. This is a huge challenge."
To meet that challenge, Weekends Only works with like-minded partners who use data to improve processes and increase customer satisfaction. It integrates tightly with its partners' systems and forms virtual work teams that cross company boundaries.
"Daily, our planning and distribution managers are working with the manufacturer's customer service manager and the 3PL logistics manager," Dumitru says. "They're all physically in different offices and could be across several time zones, but everyone is looking at the same data and is virtually in the same war room working to solve problems together."
Those relationships, along with Weekends Only's new e-commerce site, lay a good foundation for the retailer to launch itself onto the national scene. As of today, orders on its e-commerce site mimic those from inside the store – available for store pick-up or delivery within 100 miles of the St. Louis area. The company is working to expand that. It also wants to expand its brick-and-mortar locations and Dumitru says it is looking at several Midwest locations to begin that expansion.
"The plan is to take this nationwide because the benefit for us is that we can expand nationally much quicker with e-commerce than we can with brick-and-mortar stores," Dumitru says. "So that is the ultimate goal, and right now we are still fine-tuning best practices as we work with our St. Louis-area customers."