Do You Have a Mobile Plan in Place?
Mobile Payments Are Becoming More Common in Retail. Do You Have a Mobile Plan in Place?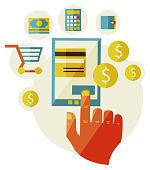 March 27, 2014 – Mobile payments are becoming increasingly common in retail, and major brands like Burger King are jumping on board. The fast food giant recently announced plans to begin accepting mobile payments through a smartphone app that allows customers to order on-the-go and prompts cooks to prepare food when GPS technology indicates the customer is close. Taco Bell is also planning to accommodate mobile payments. As retail giants get on board with different types of mobile payment processing, small and large businesses alike can revisit the topic to see whether it makes sense for their payment processing.
Benefits of mobile payments
Flexibility: Because mobile payment programs have low overhead and require little infrastructure, they can be a flexible option for large and small businesses alike. Your business can try mobile payments without having to invest in much infrastructure first.
Take new forms of payment: Some businesses that have historically been cash-only can take credit cards for the first time using mobile payment methods. By accepting new forms of payment, businesses are not limited to accepting cash on hand, and customers are not limited in what they can afford with cash-on-hand.
Improved tracking: Mobile payment systems offer built-in reporting and tracking that enable businesses to see at-a-glance sales, inventory and trends. This can be helpful in predicting sales patterns, improving targeted customer service, and better understanding their customer bases.
Works across a range of devices: Mobile payment systems like Intuit's GoPayment are device-independent. Employees can plug the mobile payment devices into Apple or Android smartphones or tablets, download the free payment processing app, and begin accepting mobile payments. Businesses can sync accounts so multiple staff members can process payments through one central account.
Faster checkout: Swipe-and-go technology enables employees to process transactions more quickly. These small time savings can have a big impact during major holiday sales and crunch times, when staff may be stretched to provide fast and friendly customer service.
Options for accepting mobile payments
Businesses have several different options for mobile payment technology. Dedicated app platforms make sense for large businesses with major market share and brand penetration, like Burger King or Starbucks. For small businesses, the cost to develop and market an app can be prohibitive. Businesses without brand penetration — for example, farmer's market vendors, local restaurants or hair salons, or independent chains with 2-3 locations — would be better off using a card reader to accept payments on the go. Readers come in two major types: Stationary readers, which remain in the place of business and use near field technology to process payments; and mobile, which travel and enable employees to swipe or manually enter payment information anywhere their devices work.
Effects on the bottom line
Gartner predicts mobile payments will continue to grow at an average of 42 percent through 2016. As growth continues, businesses will have an array of mobile payment options that meet unique needs. NFC payments are expected to remain modest in comparison to other payment processing methods. With major e-tailers Amazon and eBay demonstrating strong mobile revenue, more businesses may opt to include mobile shopping and strengthen their bottom line.
Ruby Fowler is a blogger, mobile IT expert and hiker.